Artificial intelligence has the potential to significantly lift the nation's flagging level of productivity, helping to maintain wages growth without reigniting inflation, according to NAB Group chief executive Ross McEwan.
A day after Federal Treasurer Jim Chalmers announced a probe into competition policy settings to identify growth-inhibiting speedbumps, Mr McEwan predicted AI would be "one of the biggest movers" of productivity.
"We should not walk away from the opportunity in AI," he said at an Australia Israel Chamber of Commerce lunch in Melbourne.
"Wages are lifting; we need productivity to make sure wages can continue to go up."
The competition probe, to be led by Grattan Institute chief executive Danielle Wood and former ACCC chair Rod Sims, will investigate concerns that big companies in some sectors misuse their market power and curb economic dynamism.
The government also expects that modernisation of competition settings will ensure that Australia makes the most of increased digitisation, growth in services, the transition to net-zero emissions by 2050, and improve support for those most in need.
Mr McEwan's optimism on AI was fanned in June, when he took his executive team to the US for high-level briefings on the technology's potential.
They have since been working on implementation plans, which emphasise the overriding importance of "keeping the bank and our customers and colleagues safe".
Implementation, he said, would not be rushed – NAB would "crawl first" before it started to accelerate.
Also, staff would be brought along for the journey if they had a "willingness and openness to learn".
Mr McEwan also said in his speech that transition to a net-zero economy would be complex and required everyone to contribute, with "all-too-frequent" natural disasters a stark reminder of the cost of failing to address climate change.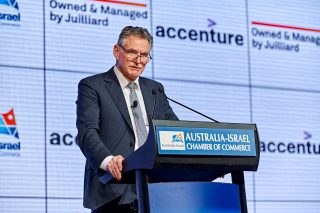 Against a backdrop of deadly blazes in Europe and Hawaii, Mr McEwan highlighted the need for investment and labour to drive renewable projects, shorter lead times and a consistent, national framework to deliver major green infrastructure which has widespread community support.
"When you look at this through the lens of opportunity, it's exciting," he said.
"There are big transitions coming, whether that's in agriculture, construction, manufacturing, the service sector or energy.
"And while there is complexity in this transition, taking action on climate change is everyone's job.
"The cost of inaction is also too great to ignore."
Mr McEwan was speaking shortly after NAB released a second climate report commissioned from Deloitte Access Economics, which found up to $435bn could be added to the national economy by 2050 if Australia deployed its natural advantages in solar, wind and critical minerals.
The report said Australia could reap the benefits of innovation and productivity growth to lift its supply-chain competitiveness and put the country on a strong footing as its traditional higher-emitting exports were replaced with new green exports.
Mr McEwan reaffirmed that Australia was likely to avoid a recession, even though the bank's data showed the cost of living was already causing the greatest level of stress for Australians since 2014.
Customers, he said, were engaging with their finances more than ever.
Many were budgeting for the first time and saving about $300 a month on average as they cut back on eating out and car trips to save on fuel.
NAB had been in touch with more than 500,000 customers, including 8000 mortgage holders considered to be most at risk.
Only 14 needed immediate help.
"The reality is the number of mortgages we have in possession, which only happens after a long period of trying to work with a customer, is not only below pre-pandemic levels but also the 10-year average," Mr McEwan said.
On the outlook, there were plenty of reasons to be confident about an uptick in the latter half of 2024.
Unemployment was near its lowest level in decades, natural resources continued to be a strong export opportunity, and the ambition to grow was widespread.
The downside was the continuing shortage of skilled labour.
Mr McEwan also referenced the housing shortage, after describing it last week as the biggest issue facing the country.
He said a coordinated response from federal, state and territory governments was needed to help address the shortage by implementing faster, consistent and simpler planning and approvals.
This covered both land development and residential construction.
"I welcome the outcomes of last week's National Cabinet meeting, particularly the proposal to streamline approvals, planning and zoning," he said.
"This is not just for government to solve. Banks, developers and community partners can move faster.
"This urgency also needs to apply to solving Australia's growing social and affordable housing crisis."
On scams and fraud, Mr McEwan said that when he was chief executive of Royal Bank of Scotland, he had opposed UK legislation forcing banks to refund customer victims of certain scams.
"My concern then and now is that no one party can fix this, so don't land it on one party," he said.
"We will do our bit. And I'm very happy to do that. But it's an Australian moment."