Farah Golmakani's journey is one of determination and perseverance as an Iranian woman facing restrictions on education and work. However, she refused to let those limitations hold her back.
"As a woman in Iran, progressing your career is not easy, especially when it comes to leadership positions. I wanted to branch out and go somewhere where the opportunities were endless and I could break free from the constraints of Iran," Farah said.
Farah came to Australia with a dream and knew hard work would help her achieve it. Initially, she focussed on learning as much English as possible so she could speak with confidence.
"I took the International English Standards 15 times, so I could get my visa! I really wanted to improve, so I would watch western movies and TV shows constantly."
Arriving in 2015, Farah wanted to work for a business that encouraged her to grow into her goals and ambitions.
Farah first joined NAB as a contractor in a Junior Product Designer role. She quickly impressed everyone with her problem-solving skills, research abilities, and passion for user experience design.
"I loved working with NAB as a contractor. It was a great opportunity to learn and grow as a designer," Farah said.
After eight months at NAB, Farah secured a permanent position in Personal Banking as a User Experience Designer. "It was the perfect role for me as it involved solving problems, conducting research, and using my knowledge of art, science, and psychology. It was never boring, and I enjoyed working with people, including interviewing customers and colleagues."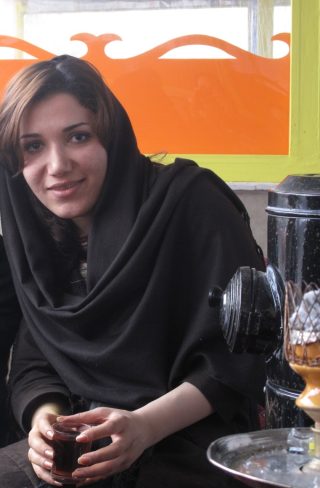 Two years  later, Farah's hard work and dedication paid off as she was promoted to Senior Product Designer.  "I was excited to take on more responsibility and make a bigger impact on the business," Farah said.  "I led the direction of design work and enjoyed the challenges that came with my new role."
Recently, Farah was offered an eight-month secondment as a Lead Product Designer.
"When I thought I couldn't progress any further, I was thrilled to take on this leadership role and learn new skills, including stakeholder engagement," Farah said. "It was a great opportunity to help a team of designers and develop my hands-on skills."
Throughout her career progression, Farah has always believed in learning and growing.
"My People Leader encouraged me to continue growing and that was a large part of my individual development plan. I spent a lot of time reading books and watching people work, learning how they do things. I also took advantage of NAB's online courses such as LinkedIn Learning and Udemy."
Farah's time in Iran, where women face restrictions on education and work, has only strengthened her resolve to succeed.
"NAB has allowed me to be the best version of myself – achieving goals that were impossible in Iran. Within four years, I have progressed my career quickly and am proud to work for a business that pushes me spread my wings and grow."
Reflecting on her journey, Farah says her vision and manifestation have brought her to where she is today.
"If you told five-year-old Farah that she would be working for a large organisation like NAB and living in Australia, I would have laughed at you," Farah said. "But here I am, living proof that anything is possible if you set your mind to it."
"In just four years, I've taken on a multitude of roles. That's the beauty of working at NAB – the endless career progression opportunities. I'm excited for what the future holds and can't wait to see where my journey takes me next!"
 
NAB was recently recognised as one of the top three best workplaces in Australia to grow your career by LinkedIn. With #moreopportunity at every turn, you have our support to develop and our encouragement to explore. To find out more visit Careers at NAB.