Every year, as pressure intensifies on the fossil-fuel industry to decarbonise, more than 900 million tonnes of high-grade iron ore is extracted from the Pilbara's deep red landscape.
While the concept of one of the nation's premier mining regions going "green", at least with its operational emissions, might seem ambitious, it's a key strategic objective for APA Group chief executive Adam Watson, who paid $1.72bn in August for Alinta Energy Pilbara and its remote, off-grid power generation assets.
APA's growth trajectory in the Pilbara now depends on successfully bundling energy solutions for mining giants such as BHP, Roy Hill and Fortescue Metals, as they honour their own decarbonisation commitments; for example, by switching their diesel-powered heavy equipment to electricity.
"(The big miners) all have their net-zero targets, and one of the best things they can do is to take coal or diesel out of the system, bring in renewable power generation and make it more reliable with gas," Mr Watson said.
"We're uniquely placed to do that because we already have a lot of the capabilities from our existing remote-grid power systems (at Mount Isa in Queensland and Gruyere in Western Australia), and we realise synergies from being able to bring it all together and operate it safely and reliably."
Just one example is BHP, which told a decarbonisation investor briefing last June that more than 1000 pieces of equipment in its local operations used roughly 1500 megalitres of diesel a year, with more than half consumed by its truck fleet.
The company said electrification was its "preferred pathway" to eliminate the diesel.
The overall impact on emissions is complicated.
While APA's total emissions will increase with the Alinta acquisition, Mr Watson, citing work by Boston Consulting Group, said an "enormous" 7m tonnes of carbon would be displaced from the Pilbara by 2050.
This was equivalent to 20 times Alinta's forecast emissions in 2050.
"We don't hide behind (APA's rising emissions from the acquisition)," the APA chief said.
"But the emissions we're taking out of the economy are significant because we're enabling our mining customers to come off diesel, bring in renewable power generation and firm it with gas."
If the Alinta Pilbara acquisition realises its potential, the upside for APA is attractive, with consultancy group Wood Mackenzie projecting that Australian seaborne iron ore export volumes will keep its global number one ranking out to 2050.
The opportunity in the remote-grid market targeted by APA is estimated to be worth $25bn, of which the largest segment is $15bn of investment in renewables and gas generation infrastructure to transition the Pilbara energy system.
Alinta has assessed its electricity generation development pipeline in the Pilbara to be worth $3bn, which combined with projects already under construction, comprises around 1GW of additional capacity to drive a "rapid" transition to a portfolio focused on renewables.
While the numbers are large, Mr Watson said he believed the overall market size was probably even bigger.
"We've acquired a business with a number of existing sites and projects in the pipeline," he said.
"Now, we're not going to necessarily win all of the $25bn of opportunities, but if you break it down into the three main buckets – electricity to operate the towns, the services and stationary energy (for example, the energy used by the world's largest bulk export port at Port Hedland), the big yellow equipment like the excavators and trucks, and the rail fleet – the market size could be bigger."
APA, which was spun out of AGL Energy in 2000 as a gas transmission pipeline business, is a vastly different company today, boasting a $22bn portfolio of energy assets.
For the most part, it remains a gas infrastructure company, but in addition to its billing as the nation's leading pipeline business with more than 15,000kms of transmission pipelines, it also has more than 600km of high voltage power transmission lines​, storage for 12,000 tonnes of LNG and 18 petajoules of gas, as well as 29,500 gas mains and pipelines for more than 1.4 million customers.
On the generation side, it is one of Australia's biggest renewable energy generators, with 342MW of wind power and 248MW of solar.
Mr Watson, a former senior Transurban executive who joined APA in November 2020 and was appointed CEO last December, was CFO when APA unveiled its first climate transition plan in August 2022.
The plan introduced interim and long-term term commitments, with a goal for the gas infrastructure assets to reach net-zero emissions by 2050, and its power generation and electricity transmission infrastructure by 2040.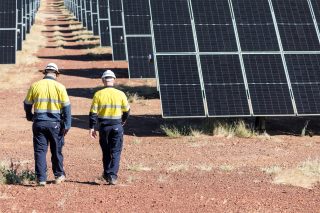 The interim commitments were to reduce gas infrastructure emissions by 30 per cent from 2021 levels by 2030, and the emissions intensity of the power generation and electricity transmission infrastructure assets by 35 per cent.
While the Alinta Pilbara acquisition represents APA's upside, the impact of the global energy transition on the legacy gas business hasn't escaped investor attention.
Scenario analysis in APA's Climate Transition Plan showed that under a 1.5 degree warming scenario by 2050, in line with the Paris Agreement, domestic gas demand could fall "rapidly", down 40 per cent by 2040, led by a decrease in residential and commercial demand, with gas-powered generation declining due to a shift towards renewables.
Under this scenario, baseload power would be provided by solar and wind power, supported by battery storage with a "limited role" for gas firming to enhance reliability of the grid.
Asked why APA would continue to invest heavily in gas infrastructure if future demand could dip, Mr Watson said the reality was that the role of gas would change significantly from provision of baseload energy to a peaking product, covering periods of strong demand.
"Renewable power generation needs to be firmed with gas because when the sun doesn't shine and the wind doesn't blow, you need to be able to supplement it with gas and you can turn gas on and off within five minutes," he said.
"Batteries have a role to play but the biggest battery in Australia is the Victorian big battery, which can power 1 million homes for just under an hour – it's actually not that effective.
"So while demand for gas may decrease over time as our energy system transitions, it's going to be a long time before we see a material decrease.
"The infrastructure is still required because you can't say: 'Gas demand will fall by 40 per cent therefore we're going to reduce our pipeline by 40 per cent' – you need your pipeline there 100 per cent of the time, you might just use it 40 per cent of the time less."
The revenue model also provided some "protection", as APA charges customers based on the availability of capacity.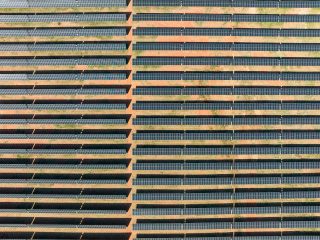 While everyone wants clean energy, Mr Watson said building renewables and transmission lines through sensitive regional communities was proving to be a challenging task.
"It should be easy but it's really hard, which means coming off coal is really hard," he said.
"So as it happens, we need more gas, and people get that because energy security is the biggest issue.
"We can't be in a position where we're overly reliant on renewables and having blackouts on a regular basis."
The information contained in this article is based upon sources believed to be reliable but which have not been independently verified. Opinions or ideas expressed may not necessarily be those of National Australia Bank Limited ("NAB") nor may they necessarily reflect NAB's views or endorsement. This article is for informational purposes only.