Australian business owners are yet to see an improvement to the labour shortage issue, and some believe it has worsened, new NAB research shows.
The responses – taken from 760 SMEs in the September quarter – reveal almost four in 10 (38%) think the labour shortage impact on their business is very significant when looking to the next three months. This is an increase from 35% in Q2. Those who expect the impact to be very significant in the next 12 months also rose, from 34% to 38% across the same period.
The research also shows more than four in 10 business owners (42%) would consider employing migrant workers, foreign students, backpackers or similar in the next six months if available. This was highest in Tasmania (56%), South Australia (52%) and Western Australia (47%), and lowest in NSW (36%).
NAB Executive for Business Metro, Michael Saadie, said the strong jobs market was supportive of a resilient economy, although the continuing shortage of labour could impact growth prospects for many SMEs.
"It's clear there's still a wealth of opportunity in Australia, one of the strongest economies in the world," Mr Saadie said.
"However, when speaking with business owners it's clear hiring and retaining staff remains a critical challenge and is preventing some SMEs from growing as quickly as they want.
"It's great to see outcomes from September's Jobs and Skills summit included in the Albanese Government's first Budget, including a boost to the permanent skilled migration cap, speeding up visa processing times and some positive steps toward better aligning higher education to the skills we need.
"However, there's further work to be done to make more workers available to businesses.
"Customers want to see further improvements to Australia's education and training systems to provide the talent needed for a digital, low carbon economy, as well as better targeted visa settings and more compelling pathways to permanent residency."
By state, four in 10 business owners in Tasmania, Western Australia and Queensland said labour shortages were a very significant issue over the past three months, as against around one in three in South Australia, Victoria and New South Wales.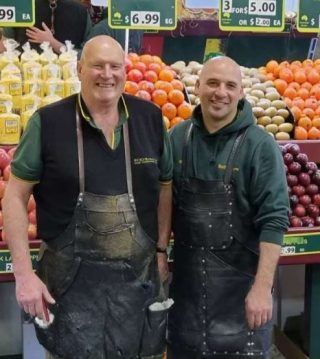 By sector, labour shortages were most severe in construction and health, and lowest in finance & insurance, and property services.
Roxanne Cohen, co-owner of Melbourne's Rod's Fruit and Veg, is preparing to open a new store in Port Melbourne but is struggling to find workers to trade during the busy Christmas period.
"We're doubling the size of our current store at the South Melbourne Market by opening our own mini market in Port Melbourne, but we can't find the workers we need to be trading this side of Christmas," Ms Cohen said.
"Skipping the busy holiday period is a real consideration – it's not ideal but we need a full team to successfully operate seven days a week.
"The lack of skilled workers is also pushing up wages, and we're having to search social media and pay for expensive adds to find staff – with many not having the skills we need."
Notes to the Editor:
Responses taken from 760 Australian small and medium business owners in Q3 2022.