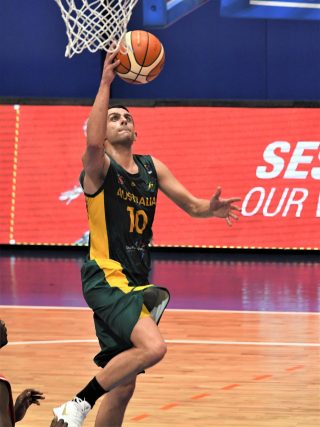 NAB's Mark Bilyj was born with a severe to profound hearing impairment (85% loss) and was first fitted with hearing aids at 6 months old. Navigating childhood had its challenges.
"People would speak very fast and I couldn't keep up with the conversation," he said. "When I played basketball or any sport, my parents were always there to communicate with me to make sure I understood the coaches. They were my support the whole time growing up."
Another mentor for Mark was his older brother Jason.
"We've always been competitive growing up," said Mark. "Jason was always pushing me harder to make me stronger."
"I followed in his footsteps, so what he played, I played."
And what they both played most was basketball.
"We had about nine or ten kids in the street and we used to play a lot of basketball in our driveway," said Mark. "On wet days, hot days or cold nights – just basketball, basketball, basketball."
When he started to play competitively at eight years old, Mark found that he was much better than the other kids!
"I was a better player and I was beating them," he said, "so the main target was to get me out of the game by knocking my hearing aids out or trying to hurt me."
Sometimes Mark would just take his hearing aids out to avoid the 'dirty plays', but that made a big difference to his time on the court.
"Hearing people can hear the whistle blow, which stops the game," he said. "But I'd just keep going!"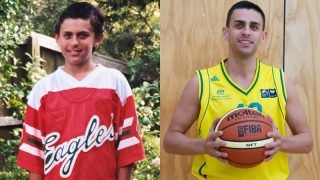 It wasn't until he was 19 or 20 that Mark was introduced to deaf basketball, where games includes technology such as flashing lights on the backboard to indicate if the whistle has blown.
"I didn't even know about it," he said. "And then one time I tried out for the Australian Goannas team, and I was in!"
Mark has been representing Australia for around 18 years now, as vice-captain from 2007 until 2012, and then as captain from 2012 to 2017.
"I'd say winning the gold medal in the Asia Pacific Deaf Games in 2015 was the best moment," he said.
Having steered the Goannas to success, in 2017 Mark decided it was time to give others a leadership opportunity.
"I said to the coach that I think it's time for change," said Mark, "but I'd like to be vice-captain to help younger players be captains for the future."
"They look up to me and I'm helping them to improve their game."
When he's not mentoring, shooting goals or winning championships, Mark works for NAB as part of our C&IB Operations team.
Since early this year, he's had access to an interpreter while working from home. It's been a transformative workplace adjustment.
"Covid times were very tough because I was working on my own," he said. "I couldn't keep up with conversations of 10 or more people on Zoom with everyone talking over each other, so it's been awesome!"
Mark has recently gone part time at NAB and started his own business helping people via the National Disability Insurance Scheme (NDIS).
"I'm a support worker, support coordinator and AUSLAN translator," he said. "I mentor and support clients with whatever they need."
Mark does anything from helping young kids develop their sports skills, to supporting older people with paperwork.
"Their language isn't English, it's AUSLAN," he said, "so I help them to read and translate to AUSLAN."
"I started that business in August last year, and it's growing fast!"
Mark and the Goannas are back in training for a friendly match with New Zealand in November, followed by the World Deaf Basketball Championship in Greece in June 2023.
"Fingers crossed but we try to not think too far ahead," he said. "One game at a time."
This week is National Week of Deaf People, with the theme of 'Building Inclusive Communities for all'. To find out what NAB is doing to become a more accessible and inclusive organisation visit the NAB website.