Brisbane businesses scored a multi-million-dollar boost during the NRL's annual Magic Round, according to NAB transaction data*.
The three-day event saw sell-out crowds spend $17.4 million in restaurants, pubs and hotels surrounding the Suncorp Stadium precinct – a 33% increase in spend compared to a regular weekend.
Accommodation and retail businesses around the precinct were the big winners, up 113% and 30% respectively, followed by restaurants – including bars and pubs – which were up 26%.
In the wider Brisbane area, accommodation spend was up 43% and car rentals were up 95% compared to a regular weekend.
NAB Executive for Business Metro, Julie Rynski, said it was fantastic to see big events bringing fans back into the city to celebrate – a win for businesses owners.
"While the cost-of-living pinch has many Australians making more considered choices to their discretionary spending, our data shows big events such as sport are holding strong," said Ms Rynski.
"Although activity in Brisbane's inner-city is not yet back at pre-pandemic levels, a healthy buzz is returning to our capital cities.
"Events such as the Magic Round act as a great economic lever – doing a brilliant job in stimulating activity in metro areas which is good news for the local business community."
CEO of Brisbane restaurant, Broncos Club, Joe Kelly said trade over the three-day event was up 15 to 20% on a regular weekend.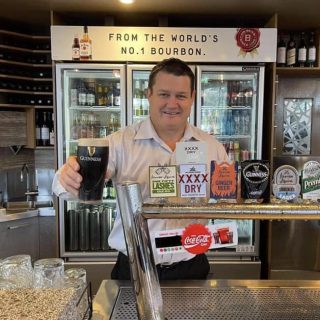 "The Magic Round is a winner – there is certainly more of a vibe in the city when these events take place as fans make the trip in to attend a game or celebrate in the area," said Mr Kelly.
"Many businesses in the inner city are continuing to struggle with foot traffic post Covid, so major events such as these are critical in encouraging people to head back into the city outside of business hours.
"Although cost-of-living pressures are impacting some wallets, we're continuing to see strong trade – Aussies love their sport and love heading out with friends and family to barrack for their favourite teams."
Notes to the Editor:
*Spend estimates taken from NAB merchant terminal data from 05 May 2023 – 07 May 2023
Brisbane Suncorp Stadium precinct: postcodes 4000, 4059 and 4064
Spend estimates taken from the following industries: accommodation, retail, and restaurants (including bars and pubs).