Companies can help to avoid a risk premium on their debt in the latter part of this decade by incorporating decarbonisation strategies into their funding plans, according to bankers.
NAB Executive, Corporate Finance, Connie Sokaris, said transition strategies to lower-carbon business models should not sit "at the side of the desk".
"The customers we're seeing that are driving huge outcomes and really shifting the dial with their transition plans are the ones which have ESG (environmental, social and governance) at their core of their strategies," Ms Sokaris told a NAB Capital Markets 2023 briefing.
"Once you do that, it impacts all the decisions you are making around investment, capital and how you fund yourself."
Legislated cuts in national greenhouse gas emissions, which become effective in 2030, have ignited speculation of a possible credit crunch, as companies potentially struggle to secure funding if they've failed to embrace sustainability and decarbonisation.
Ms Sokaris, however, rejected this assertion.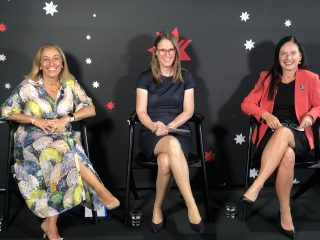 "I hope NAB and banks in general will do a very good job over the next few years in talking to customers about their Net Zero Banking Alliance (NZBA) commitments, the trajectory of getting to net zero (carbon emissions) by 2050, and how the performance of companies is aiding that or going slower than expected," she said.
"It's not about: 'We will not lend to you.' It's more about: 'How do we help you meet the commitments you have made? Are your transition plans credible? How can we help you speed up your transition?'
"So what I think will happen is companies with less mature transition plans will face a punitive risk premium rather than a pure liquidity crunch."
The Net-Zero Banking Alliance (NZBA), to which NAB became a signatory in late 2021, is an industry-led and United Nations-convened project which brings together a global group of banks committed to alignment of their lending and investment portfolios with net-zero emissions by 2050.
It's the flagship climate initiative under the UN Principles for Responsible Banking, setting intermediate targets for 2030 or sooner by using robust, science-based guidelines.
Other Australian major banks, including Westpac, Commonwealth Bank, Macquarie Group and ANZ Bank, are also signatories to the NZBA, which represents more than 40 per cent of global banking assets.
In assessments of 100 of its largest customers, NAB found that 67 per cent were "relatively mature" in their transitions and 63 per cent had set a goal to be net zero by 2050 or sooner.
Chief Climate Officer Jacqui Fox, who was appointed last November, said the NZBA had led to significant changes in portfolio management and the way bankers engaged with customers.
NAB had updated its reporting of financed emissions in ten carbon-intensive sectors, prioritising power generation, thermal coal, oil and gas and cement as they represented the majority of financed emissions in the lending portfolio.
The bank will set sector-level targets for the remaining six sectors by May 2024, consistent with the NZBA.
"The work can't be done overnight – it requires thoughtful consideration of different scenarios and measurements," Ms Fox said.
"The question is how do we operationalise this, because one of the challenges is data.
"Some sectors are more advanced in the way they report carbon emissions. Our two big challenges, let alone those faced by our customers, are how we embed (the changes) across our business, and the availability of data and data integrity."
Ms Fox said there would be significant opportunities as the world spends an estimated $US3.5 trillion a year on the transition to a green economy.
"The question is what we need to be doing to support our customers in that transition," she said.
"We need the right financing tools, products and insights to help our customers as they spend the capital to undertake the transition."