Proud Gunditjmara woman and founder of Clothing The Gaps Laura Thompson never pictured herself working in fashion.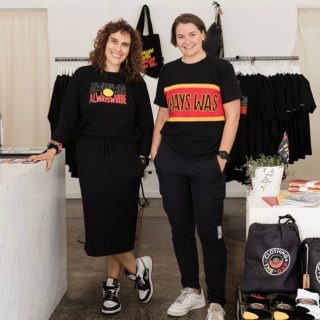 The health promotion specialist co-founded the social enterprise Clothing The Gaps with Sarah Sheridan in 2019, when both were running grassroots health campaigns for Indigenous communities.
Fashion had always been a secondary focus, then COVID-19 hit.
"We had always created merchandise as a bit of a carrot for people wanting to participate in our programs. When COVID-19 hit, we couldn't run the grassroots community activations anymore," Laura said.
During the pandemic, Laura and her team channelled their energy online. At the same time, the Black Lives Matter movement in the United States was drawing attention to oppression, racism and police brutality against African Americans and in Australia, Indigenous Australians.
"We knew content would be king in a pandemic and we always knew we sell more than clothes. We used our online platform to educate and campaign," she said.
When then volunteer Sianna Catullo asked to design something she could see her friends wearing, Laura encouraged her to create a design that felt authentic to her and her peers.
"We gave her $500 and said 'Go for your life!'"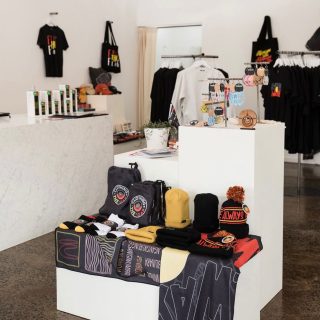 The brand became more streetwear in style and catered to an emerging consumer who want to purchase ethically produced products.
"There's a real shift in this next generation of consumers who want to purchase consciously, in terms of values-based branding. What we've been able to do really well is to give non-Indigenous people permission to wear our clothes, and you'll see that through the 'Ally Friendly' messaging on our products."
The Wurundjeri based business has since gone from strength-to-strength, creating clothing and accessories with conversation-starting messages that celebrate Aboriginal culture, people and identity. It has also built an engaged online community online, with 177,000 followers on Instagram.
Clothing The Gaps is a play on the words "Closing the Gap", which is an Australian Government health initiative to help close the life expectancy gap between Aboriginal people and non-Indigenous Australians.
Outlined in a National Agreement developed in partnership between Australian Government and the Coalition of Aboriginal and Torres Strait Islander Peaks Organisations, the initiative aims to overcome the inequality experienced by Aboriginal and Torres Strait Islander people, and achieve life outcomes equal to all Australians, and has seventeen targets across the following areas: education, employment, health and wellbeing, justice, safety, housing, land and waters, and languages.
"It really was an invitation for non-Indigenous people to step in and for us to say 'You can help us close the gap, if you clothe the gap,'" Laura said.
"Those three words helped shift people's mindset and people purchased our products because our customers could relate to the bigger cause."
It has been a wild ride with both triumph and challenges over the last few years. The business had to rebrand following a legal battle with US clothing company Gap Inc. It also devoted over two years leading the Free the Flag campaign, which saw the Aboriginal flag – once privately owned – be made free for everyone to use.
There were many moments when Laura has had to 'Be Brave and Make Change', the theme of National Reconciliation Week this year.
"There were lots of moments in that campaign where it was emotional and taxing, but when you really care about something there is no line in the sand. I was brave."
When it comes to Closing the Gap, Laura said there is still more work to do and Clothing The Gaps will continue to leverage its platforms and community to take positive actions for change.
"We appreciate the power of fashion to create social change in communities, which I never realised was a thing until I was in the thick of it," Laura said.
"We continue to advocate through our clothes, and through our clothes we fund the Clothing The Gaps Foundation, which runs health promotion initiatives. We're also meeting other criteria for Closing the Gap through running the business – we have 35 employees and 89% are Indigenous."
For Clothing The Gaps Banker Noel Prakash, National Head of Indigenous Business and Community for NSW at NAB, supporting customers like Clothing The Gaps is critical to creating long-term sustainable change.
"Change happens when great people start to take a stand and Clothing The Gaps is the epitome of driving that," Noel said.
"The theme of National Reconciliation Week ties into this – to be brave and make change. We need to get up, show up and make change. Businesses like Clothing The Gaps are stepping up and taking a stand and they are making an enormous impact. NAB will be there supporting them."
At NAB, we believe that business has an integral role to play in creating opportunities for Indigenous communities to succeed. Big institutions like NAB need to make it our business to back Indigenous Australia, it will only make us stronger.
To find out more about support offered for Indigenous businesses and community organisations visit NAB's Indigenous Banking Services website.