NAB opens a brand new banking hub in Bathurst and a refurbished hub in Hamilton
Bathurst Regional Council Mayor welcomes NAB's investment
$18 million invested across regional NSW in the last 18 months
Local banking teams in Bathurst, NSW and Hamilton, VIC have welcomed the community to their new-look banking hubs this week following significant upgrade works.
The combined investment of nearly $4 million in these two locations is a sign of NAB's confidence in these thriving regional cities.
Banking on Bathurst
In the 'gold country' of Bathurst, the brand new banking hub has relocated just 600 metres from its former location to 171 Howick Street, ensuring NAB's long-standing history in Bathurst remains well into the future.
NAB Retail Customer Executive Central NSW Kylie Sharpe said she is proud of NAB's enduring presence in the Central Tablelands.
"NAB has been in Bathurst since the gold rush days in 1862, and it's fair to say banking has evolved a lot since those days of having huge scales to weigh a customer's gold," Ms Sharpe said.
"With more customers choosing to do their banking through digital channels now, we're fully equipped to support them with a digital education space and meeting rooms equipped with video conferencing technology.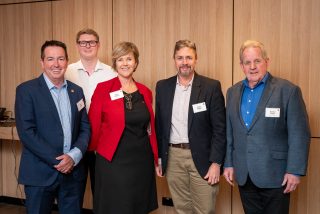 Bathurst Regional Council Mayor Robert 'Stumpy' Taylor, who attended the opening event, welcomed NAB's investment in Bathurst.
"Congratulations to NAB on the redevelopment of a key CBD site. Your investment shows your long-term commitment to Bathurst and our community, and of course your customers," Cr Taylor said.
"We look forward to NAB's continued presence in our CBD for many years to come."
The $2.7 million investment in Bathurst will be home to more than 30 bankers from across personal, business and agribusiness who'll be servicing Bathurst and the wider region.
This brings NAB's investments across regional NSW in the last 18 months to more than $18 million, with recent refurbishments completed or in progress across Wagga Wagga, Dubbo, Orange, Armidale, Tamworth, Albury, Parkes, Inverell and Narrabri.
Hamilton refurbished
Hamilton, in Victoria's south-west, is often described by locals as the 'wool capital of the world', and now its banking facilities are world class with a modern uplift to the banking hub.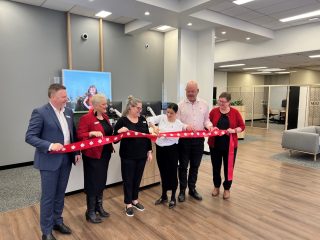 While maintaining the historic charm of the 131 Gray Street building, the banking hub reopened its doors this week, boasting new customer meeting rooms equipped with video conferencing technology and a sleek open plan space.
NAB Retail Customer Executive Tim Clarke was thrilled to reopen the branch this week following a $1.1 million upgrade.
"Hamilton is a thriving regional city built on a strong agri presence and it's becoming an increasingly popular place to live," Mr Clarke said
"As a primary hub for the south-west, this investment ensures we're in Hamilton for the long term, and our upgrades will ensure customers from Hamilton and surrounds have modern, state of the art banking facilities."
Since 2021, NAB has invested more than $63 million in 51 locations across Victoria. These updates are taking place or have been completed in locations such Mildura, Sale, Warragul, Benalla, Nagambie, Wonthaggi and Kerang.
Historical Hamilton pictures