Australians are generally coping well financially and making ends meet but 36% say they've experienced some kind of hardship in the past three months, according to new NAB research.
The research, based on a ten-point scale, also revealed Australians continued to score a modest 4.4 pts out of 10, where 10 signals they are struggling very much.
This is consistent with the previous three months.
NAB Personal Banking Executive, Mark Baylis, said the findings were consistent with what customers were telling the bank's NAB Assist team.

"Most of our customers are in a good financial position but there are some pockets of concern," Mr Baylis said.
"Banks have a critical role to provide support to home loan customers finding the increasing interest rates challenging.
"While 70% of home loan customers are ahead on their repayments, I encourage anyone concerned to speak to their bank early."
The research also showed:
Financial hardship was most evident in Western Australia (45%), South Australia/Northern Territory (38%) and Victoria (37%), but fell in New South Wales/ACT, Queensland and Tasmania
The number of Australians who said they experienced financial hardship over the past three months was 36% (v 35% in Q2 and 29% in Q1).
Mr Baylis said financial hardship included being unable to pay a bill, cover rent on time, meet minimum credit card payments or being unable take care of medical expenses.
"Regardless of what challenges they face, our award-winning NAB Assist team listens to each customer's situation and can offer tailored solutions. These can include a reduced payment arrangement, payment break or restructuring their loan," Mr Baylis said.
"The earlier a customer gets in touch with us, the quicker we can help. In fact, throughout this year, 97% of our customers were back on track within 90 days of receiving assistance from NAB Assist."
Table one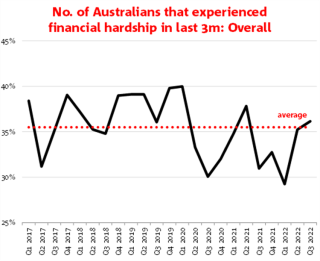 Table two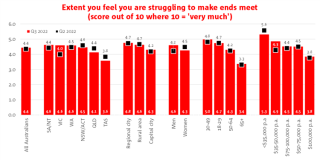 Notes to editors:
The research was conducted by NAB Economics and based on the NAB Financial Hardship Survey responses from 2,050 Australians weighted to the population, conducted in August-September 2022.
NAB customers looking to reach out to NAB Assist can click here or call 1800 701 599.
Many social impact organisations and the Barefoot Investor use $2,000 for an emergency as a measure of financial health.
Table 1 (black line) shows answers to a question based on experiencing financial hardship.
NAB has a broad measure of "financial hardship" based on the number of Australians who identify with any one of eight hardship drivers (i.e. not having enough for an emergency; for food & basic necessities; being unable to pay a bill; medical/health bills; rent on time; pay off personal loans; meet minimum credit card repayments; or pay their mortgage).
Table 2 (red bars) shows answers to a question based on the extent survey respondents felt they were struggling to make ends meet.