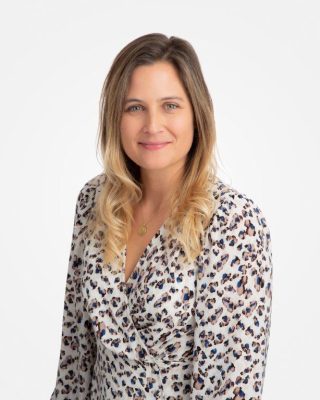 When Bree Mitchell, Director of Funds, New York first started at NAB, she never imagined that her career would take her to the Big Apple.
"When I first joined NAB, I wasn't considering an international move at all. But then the opportunity came along and suddenly I was packing up my life and moving across the world."
Bree has been with NAB since 2013, when she began her career as a graduate in business banking. After 18 months in the NAB Graduate Program, Bree secured her first secondment covering the Sydney Funds portfolio from Melbourne. It was her first taste of travelling for her career.
"I was really excited about the move," Bree said. "It gave me the opportunity to work on a different set of clients in a key sector for the Corporate and Institutional Bank, an area of the business really enjoyed and was familiar with. I was looking forward to the challenge."
After nearly three years covering the Sydney portfolio, New York City came knocking on Bree's door.
"I had been working hard internally, building up my profile, and was lucky enough to be offered a one-month secondment with the New York Funds team," Bree said.
"A few months after I returned from New York, a position opened in the same team, and I was advised to apply for it. Fast forward four weeks, I had packed up my life and was on the plane to New York City!"
As Bree approaches the fourth anniversary of her move to New York, she's grateful the support NAB provided as she transitioned her role and life to her new home and city.
"The move was a big adjustment, but NAB was always very supportive, assisting with the visa process and helping me navigate the New York real estate market which is no easy feat," Bree said.
Bree credits a significant part of her journey at NAB to the supportive people she's worked with along the way.
"My career progression means a lot to me," Bree said.
"It has enabled me to work on a variety of transactions, which has certainly been a lot of hard work but the people I have worked with along the way have been great sponsors for pushing me to take on challenges and supporting my career."
As Director of Funds and responsible for managing a team of 10 people, Bree is passionate about providing career advancement opportunities to her team.
"The biggest contribution I can make to NAB's future is the development I can offer to my team members," Bree said.
"I want to give people the opportunity to be challenged, which I think ultimately helps progress careers, as it has for mine."
This week is National Careers Week. NAB was recently named one of the top three workplaces to grow your career in Australia in LinkedIn's Top Companies 2023. With #moreopportunity at every turn, you have our support to develop and our encouragement to explore. To find out more visit Careers at NAB.