NAB chief executive Ross McEwan is backing the resilience of the economy against expectations that the most intense period of interest-rate hikes in decades will eat further into already subdued growth.
Mr McEwan acknowledged that the cost of living was rising as the economy tightened.
"But I truly believe good businesses are going to flourish again – there's a resilience in this economy that you're not seeing in other economies around the world," he told a function on Thursday night hosted by the Australian Business Growth Fund (ABGF).
The scourge of inflation, however, meant the economy had to slow down.
Conditions therefore felt harder as households responded to stretched budgets by cutting back on discretionary spending.
"Individuals are struggling with interest rates up, the cost of living is up. Everything is up," Mr McEwan said.
"But we've just got to get them through because in another nine months I think this economy will kick again.
"This is the luckiest country in the world, and I think we've got great businesses and we've just got to be in there and support consistently.
"We are a relationship-led bank, we take the time to understand when our customers have ambition to grow, including with equity such as the ABGF, or when our customers need our help."
The NAB chief's relatively upbeat tone is informed by his oversight of the nation's biggest business bank, which is exposed to all sectors of the economy.
Mr McEwan has previously downplayed the prospects of a recession, or two consecutive quarters of economic contraction.
Last month, he told the House economics committee that the nation remained well-placed to absorb a policy-induced economic slowdown compared to the rest of the world.
Unemployment was low, he said, and there was strong demand for our natural resources, with migration set to return.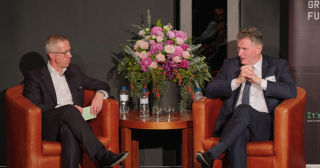 NAB's assessment of the outlook comes as the Reserve Bank's statement of monetary policy was released on Friday.
The central bank said growth was expected to slump to its lowest level in three decades, excluding the pandemic, with gross domestic product forecast to expand by only 0.9 per cent in the 12 months to the end of 2023.
This was down from the RBA's previous forecast of 1.2 per cent, reflecting a weaker-than-expected March quarter.
The RBA said growth in economic activity had been subdued this year, contributing to a better balance between supply and demand.
"Consumer spending has slowed considerably over the past year as cost-of-living pressures, the rise in interest rates and the earlier decline in housing prices all weighed on demand," it said.
"Despite slower growth, the level of economic activity in Australia is still around its pre-pandemic trend.
"Growth in the economy is expected to remain subdued over the period ahead, reaching a trough of around 1 per cent at the end of 2023, before gradually picking up to around 2.25 per cent by the end of 2025."
On the issue of climate transition, Mr McEwan said NAB would support its customers as they responded to an increasingly carbon-constrained environment, ahead of Australia's commitment to carbon neutrality by 2050.
He said some businesses would require "a huge amount of funding", while others would only need to draw on better ideas.
"This is a massive time for the (banking) industry," the NAB chief said.
"I'm pretty sure all the banks are doing it and it's going to get pretty exciting – we've got a big agricultural sector, housing, commercial real estate, trucking, rail – these are big transitions that are going to happen here.
"And it's not all going to be linear; it's going to be a bit crunchy at times but I'm confident we'll get through it."
Last year, NAB commissioned a report from Deloitte which found that about $20 trillion would be invested in the economy by 2050, regardless of whether Australia transitioned to net zero.
However, to achieve carbon neutrality, the $20 trillion would have to be spent differently to ensure the nation was best-positioned to emerge as one of the standout economies in a low-emissions world.
This included $420bn in additional new investment by 2050, alongside $70bn shifted from emissions-intensive activity by 2030 into low-emissions activity.
This would be spent on the necessary structural changes necessary to avoid driving up the cost of the transition.
In the report, NAB chair Philip Chronican acknowledged the size of the challenge.
"The scale of action needed is far broader than the Industrial Revolution, and yet the timeline is roughly half," Mr Chronican said.
He warned that if Australia was too slow to move, or failed to act, the economy could falter.