In the 2016 milk crisis, when the cost of production exceeded farm-gate prices, sustainability was a gruelling, short-term challenge as businesses struggled to survive.
Thankfully, the fundamental economics of the industry have improved, although the nation's commitment to carbon neutrality by 2050 is imposing a very different kind of longer-term discipline.
The cost of milk
In 2019, one of the nation's fastest-growing dairy companies, Australian Consolidated Milk (ACM), chose the tiny community of Girgarre in Northern Victoria to locate a plant processing up to 200 million litres of milk a year.
ACM doubled up a year later, commissioning a cheese factory on the same site to supply a range of milk-based consumer products such as powdered milk, butter, cream and cheese for domestic and export markets.
The group, however, became increasingly conscious of its non-renewable energy costs and associated sustainability issues.
After a lot of consideration, ACM chose to invest about $6 million in a waste-to-energy project to produce gas from a biodigester, which generates biogas and fertiliser from organic waste.
For ACM Director Paul Ingleby, who has been schooled in the unforgiving world of agri-finance, there were powerful economic and sustainability considerations.
"We're putting in a cogeneration unit with combined heating and power," Mr Ingleby told a NAB sustainability function.
"It will be powered by a biodigester on-site to produce 94 per cent of our electricity and reduce our emissions by 70 per cent.
"We'll probably top up the biodigester with solar, and we're on the way to be net zero by 2026."
Return on investment
Lower energy costs are expected to generate a one-to-two year payback from the investment, with revenue benefits also expected from ACM burnishing its credentials in the increasingly important organic market.
Established in 2008, ACM manages about 450 million litres of a milk a year from 300 dairy farmers, producing high-quality conventional, organic and A2 dairy ingredients and foods.
An efficient supply chain and low overheads enables the company to offer competitive, market-linked pricing for suppliers and customers, which helps generate stability and confidence as well as establish a buffer against volatile commodity markets.
The way ACM sees it, farmers entrust the company with their milk supply, which in turn creates an obligation to extract as much value as possible from the milk solids and return it to the farm gate.
A place of many waterholes
Tahbilk, a five-generation family-owned winery about 120kms north of Melbourne in the Nagambie Lakes region of central Victoria, is similarly motivated by sustainability, becoming one of the first Australian wineries to obtain certification in 2013 as carbon neutral at an organisation and product level.
In the language of the Taungurung people, the area is known as tabilk-tabilk, or place of many waterholes.
The vineyard has 200 hectares under vine, with a cellar door overlooking the Goulburn River and a restaurant situated near a fully restored wetlands area.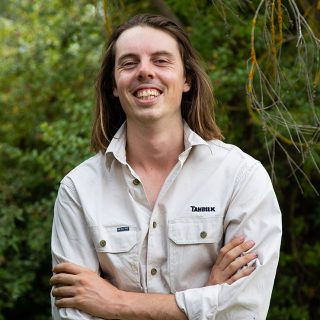 Tahbilk's decarbonisation strategy was crafted in the knowledge that energy, in particular refrigeration, is two-thirds of its emissions footprint.
"Electricity is the biggest sector we've made our gains in – over the last eight years we've managed to reduce our carbon footprint by 45 per cent," Tahbilk Environment and Vineyard Research Analyst Lachie Thomas said.
"One of the areas we're going to tackle next year is to reduce our consumption (of inputs like) time, diesel and electricity and create more of what we do.
"Taking time to reflect on how we can do things better often has that double-win in economics and the environment."
Sustainable street cred
Like ACM, decarbonisation initiatives have contributed significantly to Tahbilk's sustainability credentials.
One of the biggest projects was installation of 300kW of solar, slashing energy consumption from the grid by 39 per cent and reducing power bills.
Solar, according to the company, has "flattened out" a 33 per cent spike in energy prices over the last 5-6 years.
Other energy-saving initiatives have included painting the restaurant roof in a NASA-designed heat-reflective paint, and land and property management techniques to reduce the use of pesticides and cut emissions used in producing and transporting the product.
Promotion of soil health and biodiversity has also led to more productive vines.
Mr Thomas said the winery was now at a "very exciting" time.
"We've been measuring our carbon footprint for eight years and for the first time we've been able to naturally offset all of Tahbilk's emissions without having to purchase carbon credits," he said.
"In the vineyard, there's a lot of exciting technology on the way but it's not here just yet – autonomous tractors, electric or hydrogen-powered vehicles.
"While there's a lot of great environment work in the emissions space, there's a lot in the social space as well and we're putting a lot of effort into that."
Shouting from the rooftops
Neither Mr Ingleby nor Mr Thomas were concerned about raising their heads above the parapet and potentially attracting criticism, or even suggestions of greenwashing.
Mr Thomas said transparency and being open about the company's motivations were key.
ACM's Mr Ingleby said he would not hesitate to "shout from the rooftops" when the company's sustainability journey neared completion.
"This will be a major selling point for us; we won't be holding back," he said.
"Our cost of production will come down, and we'll have a more sustainable advantage against those who don't do it.
"We're very focused on the bottom-line and what it takes to lower our costs and improve our business.
"We believe it's good for the environment and good for us."