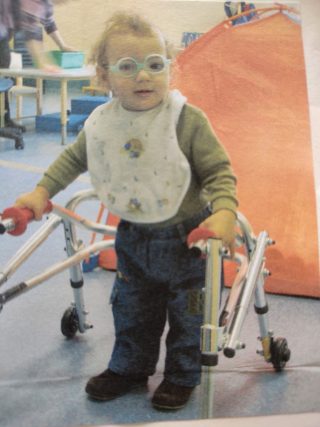 Husband and wife Justin and Rosie Willaton first met in 1997 while working at a NAB branch together.
"It was fate," said Rosie. "I was asked to choose if I wanted the Lead Teller role at the North Melbourne or Richmond branch, and I chose North Melbourne."
Twenty-five years later, they have three children, including their 19-year-old son Blake.
When Blake was eight months-old Rosie and Justin took him to the specialist for a check-up.
"We could see he wasn't ticking some of those developmental milestones – he wouldn't roll over or try to pull himself up or walk," Justin said.
Blake was diagnosed with cerebral palsy, a developmental disability that affects children's ability to control their movements.
"I remember the day like it was yesterday. Doctors told us he would never walk," Rosie said.
Rosie and Justin, who have worked at NAB for 28 and 32 years respectively, saw NAB colleagues rally around them.
"We were devastated but we were surrounded by our work family. The first thing they said was 'We've got this. We'll do everything we need to do to make sure that Blake gets the best support," Rosie said.
The support we've had from our colleagues through that whole journey has been amazing.
"They helped us fund a specialised walker and seat for his early intervention centre. Never say never to Blake, he can walk up to 200 metres unaided and we can't catch him!"
Since then, Justin, Rosie and Blake have all worked to raise awareness and support for people with special needs.
"Cerebral palsy affects people in different ways. For Blake, it's affected his mobility, his sight and his intellectual ability. But cerebral palsy can also be someone who just has a limp, or someone who is severely disadvantaged and in a wheelchair. We're one of the lucky ones," Rosie said.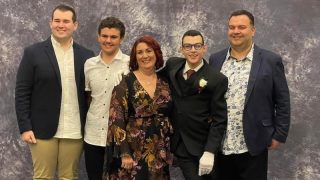 This month, Rosie and Justin will be participating in STEPtember, a virtual challenge that encourages people to take 10,000 steps per day, while raising funds for people living with cerebral palsy.
"With STEPtember, you can't underestimate the impact that you can have on someone's life. Even a small donation, every single dollar counts," Justin said. "With that support, people with special needs can go on as able contributors in society and live meaningful lives, that's what it's all about."
That includes people like Blake, who has made a big difference advocating for people with special needs.
"He has come so far from this little happy boy to an adult that will not stop at anything to get where he wants to be – I guess we could describe him as determined!" Rosie said.
We are really proud parents!
Together, Blake and Rosie have also helped guide the development of Ambulance Victoria's first Accessibility Action Plan, specifically to include sign language prompts in Ambulance vehicles and have paramedics know basic sign language.
For Blake, it comes back to being treated just like everyone else. "Wherever he is, there's always somebody that knows him, so he thinks he's a rock star. Our local community have really made him feel welcome."
A recent highlight was completing his Debutante ball, which was filmed by ABC 7.30!
"Blake's a complete blessing to us. We would have gone on with life and not fully understood what anyone with special needs really experienced, but he's taught us more than what we've taught him," Rosie said.
Rosie and Justin believe it all comes down to the support Blake has received.
"It's not a fluke that this happens, it's from all of the support he has received throughout the journey that's helped to get him to where he is," Justin said.
"It's through the help of things like STEPtember and the NAB family coming together."