Three years after starting at NAB in 1980, Ross Marshall was diagnosed with leber's hereditary optic atrophy. He lost all of his central vision, leaving him legally blind.
"At 21 when my vision loss first happened, I think I was still quite immature and self-centred – it was all about me," Ross said on Global Accessibility Awareness Day.
"If it wasn't for my family and friends, I don't know how I would have dealt with losing my sight."
Ross moved from working in a branch to working behind the scenes in office roles, and in his spare time even completed the 96km Kokoda Track, earning the nickname 'Catch me if you can Ross'!
"I'm really proud of my accomplishment as someone with a disability to have been able to achieve that," he said
"Every time things get hard for me, I look back and I think, 'If I could do that, I can do anything!"
Over the last decade, Ross has made a comeback to NAB's frontline, supporting vulnerable customers as part of our Customer Care team (NAB Assist).
NAB's Customer Care team specialises in working with customers who are finding things tough financially. Specialised bankers like Ross talk to customers about their individual circumstances to understand what options are available to help improve their situation and get them back on their financial feet.
"There have been a lot of roles that I've really loved, but this one really fits my passion and my values," he said.
"My goal is always to make sure that there is light at the end of the tunnel for everyone.
"Making a difference in people's lives gives me great joy and my role at NAB allows me to do this".
But for Ross to continue making a difference, he relies on adaptive technology called JAWS (Job Access with Speech) that reads what's on his computer screen.
"One thing I would say is I would not be able to do my job without the supports that I've received from NAB and Vision Australia," he said.
"There's no way I'd be reaching 40 years of doing what I love doing."
After clocking up his fortieth year at NAB, Ross has made some major life changes in the last few months. He married his beautiful partner Karen, pulled up stumps in Melbourne, and is now serving customers remotely, working from Queensland.
Any customer feeling like they could use some extra care with their finances can contact the NAB Assist Customer Care Team at https://www.nab.com.au/personal/help-and-guidance/financial-hardship or call us on 1800 701 599.
Today (21 May) is Global Accessibility Awareness Day, which aims to get everyone talking, thinking and learning about the digital access and inclusion that enables inspirational people like Ross Marshall.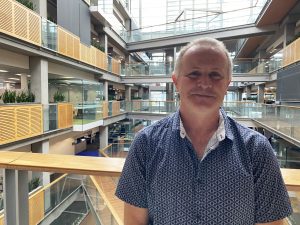 Above: Ross Marshall at NAB's Headquarters at 800 Bourke Street, Melbourne.