Leticia Anne Designs started out as a creative outlet for Leticia when she was working full time in youth services. Just over two years later, her creative outlet has turned into a thriving graphic design agency.
"I was a youth worker for seven years and I first went into business while I was still working full time and studying at uni. I was a dance teacher for five years and I wanted something else that was a creative outlet. I delved into a diploma at Billy Blue College of Design. I didn't even know what graphic design was! I'd never touched Adobe software, I didn't understand branding but I picked it up quickly and I was in business within four months of studying," she said.
"At first it was just part-time and I found clients via word of mouth in the Dubbo community. The only marketing or promotion I did was just people – I had a lot of supporters in my court and people that believed in me."
After a move to Newcastle in January 2021, Leticia made the decision to become a full-time entrepreneur and left her job. Leticia Anne Designs now has a team of six deadly creatives offering branding, graphic design, art and illustration, packaging and apparel design and website design services, and its first employee. Wodi Wodi and Walbunja woman, Lauren Henry, has joined the business as Junior Graphic Designer and Program Support. Lauren is also an artist (find her work at @banggaada) and through introducing the Dhurga language to Leticia Anne Design, she has allowed the business to expand into cultural language services.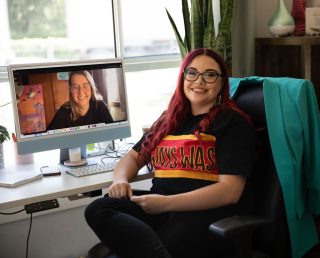 The agency began primarily supporting small Indigenous businesses, but now also works with government organisations such as NSW Department of Communities and Justice on reconciliation and community support projects.
Leticia links her strong focus on connection with her clients to her success, an element that comes naturally to her after many years as a youth support worker.
"What I do is all about connection. There is a difference between being a graphic design agency and being someone that is there to want to support a business to grow. It's not just that we're delivering design services, we're delivering connection and support along the way. The people I started with, over two years ago, I still yarn with them today," she said.
"Because I've come from a youth work background, an advocacy background, a self-empowerment background – I'm transferring my passions into the business. The business gives that same experience that I would offer young people, except at a business level."
With the design side of Leticia Anne Designs thriving, Leticia's passion for youth support and advocacy is once again in focus.
"I've been a youth ambassador and consultant for child protection, needs and rights for a very long time.  I've been involved in a lot of community work since I was 17 and it is something I will be bringing to the forefront of the business. It is about supporting young people and mob in community. I'll be doing different things, like MC'ing events for NAIDOC week for example and I get asked to do a lot of community consultation work," she said.
"We also run a youth program called Start Up Deadly which is supporting young people 16-21 to go into self-employment. We just started a few weeks ago and it will go until October, so it is a long program, where young people will be connected with mentors along the way.
"My goal is to show young people that business isn't just for people over 30. I had no idea that I'd be running my own business. I always naturally had leadership skills and qualities, but I had never thought I'd harness them outside of a normal job. When you have the right people, the right support the right connections in place it's a whole difference ball game. That's the bigger picture, to be supporting young First Nations people into the entrepreneurial space – young people mentoring young people."
NAB is a gold sponsor of this year's Connect trade show and invited Leticia Anne Designs to join the exhibitor list.  NAB Indigenous Business and Community Banker Adam Fletcher, a proud Gringai man, of the Wonnarua Nation, wanted to provide the opportunity to a small, but growing Indigenous business.
"When I met Leticia, I was really impressed with her business, she is a powerful storyteller, and I could see how she could help a lot of my customers. This is a peak industry event where Indigenous and Torres Straight Islander businesses can connect with corporate Australia and network with each other. When the opportunity for the booth arose via our sponsorship, we wanted to provide an opportunity to an Indigenous business that would really benefit from the opportunity, like Leticia Anne Designs," he said.
"I am a dedicated Indigenous business banker and like Leticia, I am focused on relationships and connection, it is how I add value to my customers. Being able to finally come together at Connect after a challenging few years is really special, I think we'll see some big business moments happen this year!"
This approach means a lot to Leticia.
"I connected with Adam a couple of months ago for a yarn and mostly because of the connection with Adam I'm looking to become a NAB customer. Having the opportunity to go to the Supply Nation Tradeshow, that is the kind of support I need from my bank. Somebody that says, we have other customers that need support with branding, graphic design, connection and being that networking point. They're a bank, but you're not just a number, it's exploring how NAB can actually benefit your business. I think it is a mob focused thing as well because Adam is like a big brother figure. He constantly checks in on a personal and business basis, which is very important when it comes to supporting Aboriginal businesses and what it means for us starting from the ground up."
Follow Leticia Anne Designs on LinkedIn and Instagram and visit the www.leticiaannedesigns.com.au.
Learn more about Supply Nation | Australia's largest national directory of Indigenous businesses.
---
The annual Supply Nation Indigenous Business Tradeshow – Connect – brings together a diverse range of Aboriginal and Torres Strait Islander businesses to showcase their products and services to corporate Australia and government departments. The 2022 tradeshow is happening today, in person, for the first time in two years in Sydney on the land of the Gadigal People, of the Eora Nation.