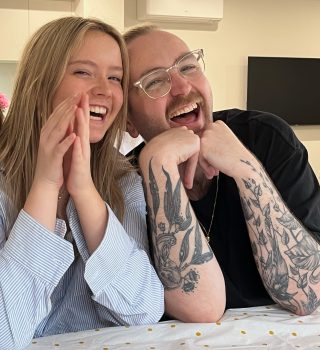 Standing in front of an online audience of their peers talking about identity was something that Nic Wood (they/them) would never have thought possible.
Nic has a busy job as a Resource Planning Analyst supporting the Business Care team in Business & Private Banking. In addition to this they also co-chair the Trans & Gender Diverse Customer Experience as part of NAB Pride, a role that they love as it's a tangible way that they can give back to a community that has supported their own journey to accepting their identity.
Being visible is also important to Nic, and as somebody that identifies as a queer non-binary person, they know the importance of being visible and being a positive role model for colleagues and the LGBTQIA+ community.  A non-binary person is someone who does not identify as exclusively a man or a woman. Someone who is non-binary might feel like a mix of genders, or like they have no gender at all.
"For the first 20 months of my career at NAB, I introduced myself as a straight man, despite being 'out' as non-binary outside of work. This included using male pronouns (he/him) that felt very jarring and upsetting whenever I was referred to as a man."
Even though Nic was in a relationship with a man, they never felt safe to correct colleagues when they assumed Nic's partner was female, even though his gender had not been mentioned in conversations. This is a common concern for many in the LGBTQIA+ community, and how it could impact professional leadership aspirations and the prospect of gaining a promotion.
"I was unsure if people in my area would understand me and whether they would treat me the same.  I want to be a leader in my business, but I don't see non-binary leaders. I then realised that at some point somebody needed to be first."
After coming out at NAB, Nic's leadership group have shown endless amounts of support, promoting a safe comfortable environment, allowing Nic and other colleagues the ability to thrive in their identity.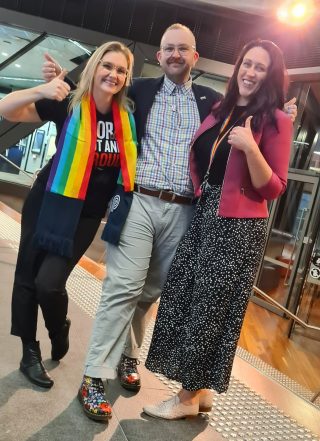 "My leaders have been amazing since coming out, they have asked how they can be better allies and wanted to learn from my difficult experience in bringing my true non-binary self to work," Nic said.
"They took on simple advice like adding pronouns on their email signatures, and on their Zoom and Workplace profiles. They shared content during Pride Month and talked openly about their experiences and challenges of allyship at an LGBTQIA+ Ally Workshop they attended. Having colleagues use my pronouns in conversations and communications has been an incredibly validating experience."
When planning NAB Pride month, the organising committee felt it important to help NAB colleagues better understand the LGBTQIA+ community.  Whilst many can identify some of the more widely known letters, there is limited understanding of others.  During the session presenters, and the panel explored issues impacting the Bisexual, Transgender, Queer, Intersex and Asexual communities. During the panel discussion, Nic shared the stage with Sally Goldner (she/her) and Tony Briffa (she/her) to share their lived experiences.
"I was honoured to share the stage with two amazing individuals who have colourful and successful careers as people who identify within the LGTBQIA+," Nic said.
"Since the event we've had so many colleagues reach out to talk about what they took away, and how important visibility is at NAB.  It helped affirm the important steps we're taking at NAB Pride to create visibility of our LGBTQIA+ colleagues."
Today (14 July) is International Non-Binary People's Day.  It's an opportunity to better understand and celebrate those who are non-binary, and those who do not fit into a binary gender. To learn more about how NAB is building an inclusive workplace visit the inclusion and diversity page on the NAB website.