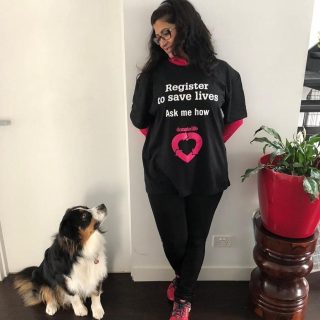 NAB Analyst Manisha Chaubal-Menon was 38 years old when she was diagnosed with IgA nephropathy – a kidney disease with no cure or treatment other than a possible kidney transplant.
Following a strict medication regime and dialysis three times a week, four hours each, Manisha's kidneys deteriorated over the years to the point where a transplant was her only option.
"I didn't have any other choice. If you don't do it, you die. Or, you can be lucky enough to get another lease on life – that's how I looked at it."
Manisha had been on dialysis for nearly five months when a friend – Manisha's then business partner – offered to be her kidney donor.
"I'm indebted to him for life. I was really blessed to have had a live donor. My breakfast is a handful of 12 tablets every morning and so many each night, but that's part of me now," Manisha said, 11 years on.
"I get to live, I get to see my children grow up."
Since her transplant, Manisha has joined DonateLife as a volunteer, in the hopes her story will encourage others consider organ and tissue donation. She was even one of the 'faces' of last year's DonateLife Week campaign.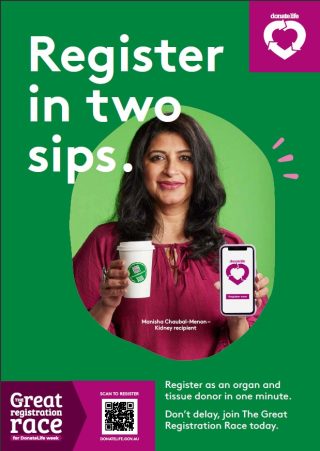 Manisha is also the customer (patient) representative on the Transplantation Society of Australia and New Zealand, the committee that decides and governs transplant rules and regulations across the two countries.
This DonateLife Week (Sunday 23 – Sunday 30 July 2023), Manisha is reflecting on her own transplant journey, while encouraging her colleagues and Australians alike to register as organ and tissue donors.
"The whole idea is to spread the word. There are a lot of myths about organ donation as well, so I work to dispel them. Any opportunity I get I promote it," Manisha said.
"As a kidney transplant recipient, I know how important it is that people register to become an organ donor. It is a true gift to have your life transformed as a result of organ donation."
Her message to people is simple.
"Once you leave the body, your organs are of no use to you anymore. As I see it, they will either go to ash, or go underground – so why not bestow them to a noble cause and save lives?" Manisha said.
"Up to seven lives can be saved by a single organ donor – so why not become one."
Could you donate one minute to give someone a lifetime? Register at donatelife.gov.au or with three taps in your Medicare app.