Mum's AFL bucket-list dream a reality
Banker Darren Hancy was able to give his mother a once in a lifetime opportunity arranged through NAB and the AFL's longstanding partnership.
Sadly, in July 2021, Darren's mum Judy was diagnosed with inoperable liver cancer.  The family started a bucket list, which included Pies fan Judy attending the iconic ANZAC Day match between Collingwood and Essendon last month.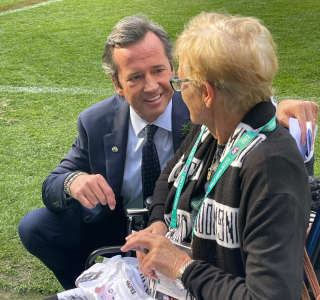 When Darren inquired with the NAB Staff Club about tickets, his colleagues swung into action to see what more was possible to support her bucket list request.
With the help of the AFL, colleagues created a unique match day experience at the MCG. The Hancy family was on the boundary pre-game before watching Collingwood beat old rival Essendon.
Judy, 75, also received a signed guernsey from captain Scott Pendlebury, while Channel 7 was on hand to capture the experience.
Darren said he really appreciated the efforts of colleagues.
"It's a bit overwhelming when people pull together like this. It snowballed pretty quickly," he said.
"The day and the experience was something our family will remember forever. We are so grateful to colleagues from the Staff Club and Sponsorship Team who helped make mum's dream come true."
Darren has worked at NAB for 37 years and is currently a business banking associate based at Warrnambool in Victoria's western district.
"I'm a lifer. I started when I was 17, done a few different jobs and met some amazing people," he said.
"I've been mainly working from mum's on the Bellarine Peninsula over the past six months."
Sadly, cancer impacts about ~50% of Australians directly and indirectly and the Hancy family knows this all too well.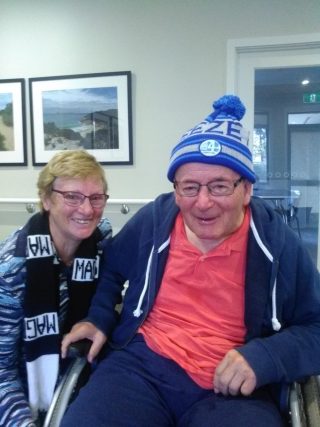 Judy had breast cancer more than 20 years ago and she's spent most of her time in recent years caring for others.
One of her sons, Craig, passed away from myeloma (cancer) in 2009, while her husband Richard had dementia and passed away in 2019.
Group Chief Operating Officer Les Matheson said colleagues were able to create a truly memorable more than money experience for the Hancy family.
"At NAB, we're here for our customers and colleagues. I'm so pleased with what we were able to create for Darren and Judy thanks to our 20-year partnership with the AFL and with the assistance of the Collingwood Football Club," Mr Matheson said.
For the Hancy family, their bucket list adventures continue. Darren, sister Jodie and Judy have just returned from three nights at Uluru and a trip to Broome is next.
Footage courtesy of 7afl.