Melbourne-based construction company Bodon Homes is one of the first businesses in Australia to finance the acquisition of commercial property and land through NAB's recently expanded Islamic finance for business customers.
Through the deal, Bodon Homes will construct 30 homes in Mordialloc using a finance facility that meets both Islamic legal requirements and Australian law.
NAB Head of Islamic Finance Dr Imran Lum said NAB is currently the only Australian bank offering this type of financing.
"We were proud to be the first Australian bank to offer specialised business Islamic financing, and we're thrilled to be expanding this option to enable business owners to finance their growth by purchasing commercial property and land too," Dr Lum said.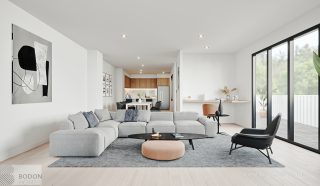 Designed to meet both Australian and Islamic legal requirements, the product is structured as a lease-to-own, where rent and service fee charges are paid instead of interest.
The offering also has the endorsement of Amanie Advisors, a global Shariah advisory firm to provide comfort to customers around Shariah compliancy.
"We're looking forward to continuing to work with the Muslim business community here in Australia – understanding their needs to help more businesses grow where they might have otherwise used friends and family to raise capital," Dr Lum said.
"And it's not just Muslim businesses – in many cases, we have financed non-Muslim businesses that have requested this type of financing because they have a Muslim partner or investor who have a preference for Islamic financing, so this allows us to financially include more people."
Bodon Homes Director Mahmoud El Bodon commented that NAB's specialised financing for Muslim businesses has made the process of purchasing commercial land simple.
"The specialised banking team at NAB understood our unique needs and were able to work with us to grow our business – aligned to our Islamic values and beliefs," Mr El Bodon said.
"Access to Islamic finance at competitive rates is a huge game changer for Bodon Homes. Previously, we were limited to the capital we had within our network, but now we can leverage NAB's Islamic financing.
"This will allow us to seriously consider larger projects as well as the build to rent market – both of which are now commercially viable for us."
Changes to specialised Islamic business financing
Previously, the finance option could be used for commercial property development and construction purposes only.
The expansion now allows customers to purchase commercial property and land over five million dollars.