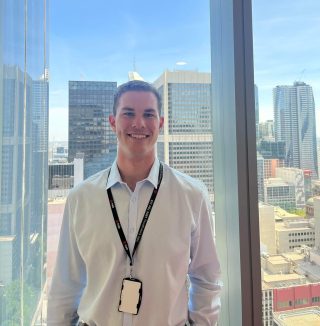 Callum Fisher wants to make a difference in customers' lives.
The NAB graduate started off his career at another bank two years ago, helping customers experiencing financial hardship with their mortgages.
It was here that he saw how important it is to listen and treat people with respect.
"Given the nature of these calls, customers were particularly sensitive and distressed. Calls regarding domestic violence, disability and from the elderly highlighted to me the extra standard of care required for those most vulnerable in society," Callum said.
"I am extremely grateful for the opportunity I had to work in this area. It has grounded my understanding to see how decisions at the highest-level impact individuals – such as changes in interest rates, relief packages and credit reporting. It was pretty enlightening, most customers just need to be listened to a bit."
Most of all, Callum enjoyed the feeling of being able to make a difference for customers.
"At the end of the day, it felt good to help them," he said.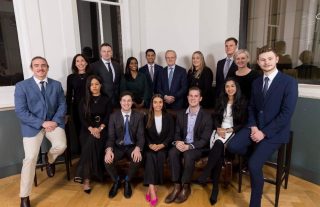 As a graduate in Private Wealth at NAB, Callum continues to lead by example and seek opportunities to influence positive outcomes for customers.
He's recently been appointed as a NAB 2023 Banking and Finance Oath (BFO)Young Ambassador alongside fellow graduates Vinoda Perera and Justin Fulop.
"I was motivated to become a BFO Young Ambassador because after the experience of working in financial hardship I still wanted to have that aspect of purpose in my work," Callum said.
By committing to the BFO, signatories are affirming that they display an understanding of personal accountability and respect the position of trust society affords them.
"This is an an opportunity to make a lasting commitment to ethical practice, and lead by example," Callum said.
"As a BFO Young Ambassador and NAB Graduate I will champion the oath, and work towards changing the stigma surrounding the financial sector."
Callum has already expanded his understanding of the profession through his involvement in the program.
During a recent BFO Young Ambassador event at The Ethics Centre in Sydney, Callum and his colleagues heard from the Centre's Executive Director, Simon Longstaff, who spoke about the importance of approaching things with curiosity, as well as integrity.
"He got us thinking about how you don't want to be the person pointing the finger at everything, but instead approach situations with curiosity," Callum said.
"When you see something that you don't think is right, ask open ended questions to foster a discussion. When you approach things in an accusatory way, people can become stauncher in their positioning and shut it down. But if you approach that discussion with curiosity then it would be a lot more fruitful to generate some change."
Find out more about the Banking and Finance Oath on the BFO website.  
NAB was recently named one of the top three workplaces to grow your career in Australia in LinkedIn's Top Companies 2023. With #moreopportunity at every turn, you have our support to develop and our encouragement to explore. To find out more visit Careers at NAB.