Australian farmers will be better able to understand and report on the impact of their sustainability practices, thanks to a partnership between NAB and agri-tech start-up Geora, using blockchain technology.
Using the technology, farmers like Queensland's Leather Cattle Company are able to support the reporting covenants of NAB's Agri Green Loan, with Geora integrating the company's existing sustainability data providers into blockchain. This creates a standardised and clear record of the environmental impact and the Leather Cattle Company's steps to reduce emissions.
In turn, this provides an additional layer of transparency to NAB's Agri Green Loan book and creates a trustworthy record the Leather Cattle Company can share with interested stakeholders in the beef supply chain.
For the Leather Cattle Company, data being integrated relates to the dry matter coverage of their property and the amount of red meat produced over the term of the loan.
NAB Chief Innovation Officer Howard Silby said this initiative will demonstrate how blockchain technology can help with a range of use cases in the financial services industry, including climate transition.
"We believe that elements of the future of finance will be blockchain enabled and that the technology also has the potential to assist with how we track and audit our ESG-linked financial products," Mr Silby said.
"We know that farmers are being asked by many different stakeholders to report on their sustainability efforts. Digitising and building trust through a transparent and consistent reporting structure will make this process easier and saves duplication for farmers and their entire supply chain.
"The Leather Cattle Company is a great example of how the agriculture sector can adopt technology solutions, particularly blockchain, to demonstrate the climate impact of their investments.
"We're working to expand our Agri Green Loan product offering and we're continuing to explore how technology can help with cost efficiencies that we can pass through to customers where they are investing in driving quality 'green' outcomes."
Owner of the Leather Cattle Company Melinee Leather, with her husband Rob, said this technology will create data to assist in showing the impact of the Leather's sustainability activities on emissions reduction.
"We invest an enormous amount of hard work into making our cattle production green and sustainable. Working with NAB and Geora to track this digitally means we can actually prove the impact of these Green projects," Ms Leather said.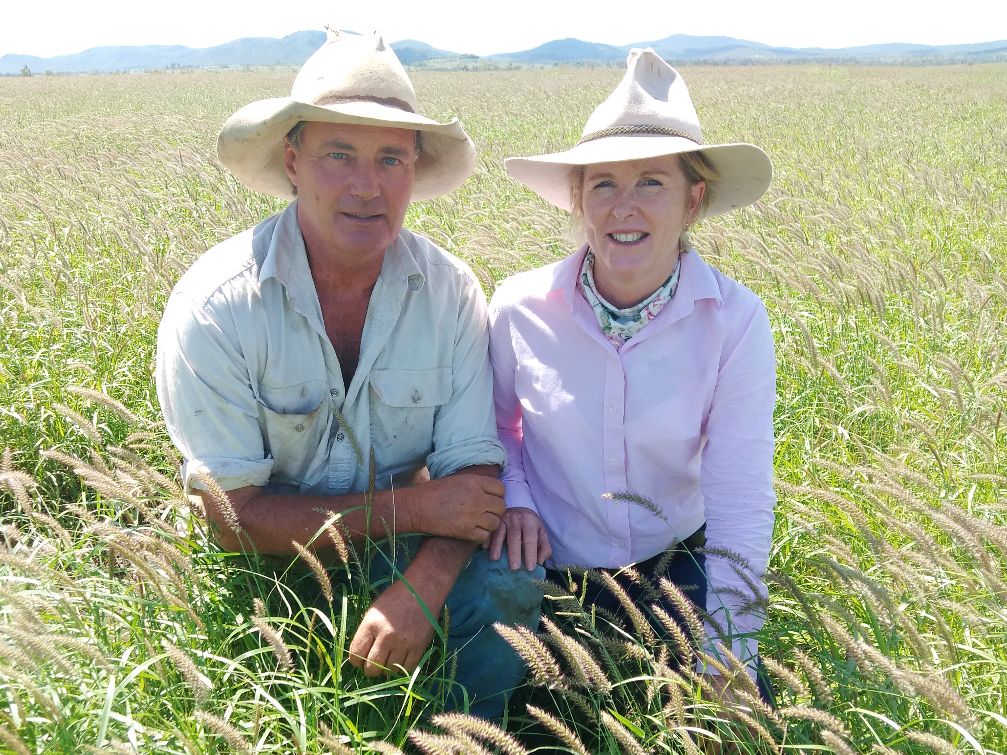 "The ability to store information using blockchain will also be of value to purchasers of our beef to show the credentials in the quality of our product."
Geora CEO and Co-founder Bridie Ohlsson said she was pleased to see this collaboration between traditional banking and the start-up industry. Founded in 2019, Geora leverages blockchain networks to provide data solutions to farmers globally.
"The process of building more sustainable agriculture involves moving trust from the physical world to secure digital environments," Ms Ohlsson said.
"NAB is a core part of the producer's trust network in Australian agriculture, and that's one of the reasons we are so excited to be working together."
Creation of a stablecoin
For NAB, the standardised reporting provides a clear, auditable record that can be aggregated across a portfolio of multiple loans to underpin the green credentials of its green loan products.
Verifiable green loan portfolios also create the opportunity for NAB to act as an intermediary between investors in term deposits or bonds who increasingly expect their money to be used for green purposes and borrowers who are wanting funds to transition to greener business models.
NAB has recently minted a stablecoin to help digitise this connection and create greater transparency for all parties.
"With our stablecoin functionality, that can be characterised as a tokenised deposit, plus our use of blockchain to verify our green assets, a tokenised green deposit offering is certainly in NAB's Digital Assets product development pipeline," Mr Silby said.
"This is a new era of transparency which is essential if we are to direct funds at scale to the transition to a green economy."
Customers seeking more information about NAB's Agri Green Loan can find details on our website, including how you can get in touch with one of our agri-banking specialists.