NAB has approved its first Future Farmers loan as it moves to help the next generation of Australian farmers purchase or lease their first farm sooner.
The NAB Future Farmers program was launched in January to provide more flexible loan structures including potential for reduced equity requirements and a longer repayment period, on a case-by-case basis.
Wimmera mixed farmer Brad Keller, 27, of Nhill in western Victoria, is the recipient of NAB's first loan under the program which will enable him to put an offer on his first farm.
Mr Keller grew up on his family's cropping and sheep property at Nhill but left the farm at 18 to work full-time as a shearer, gradually saving enough to starting leasing land and run his own cropping and livestock operation.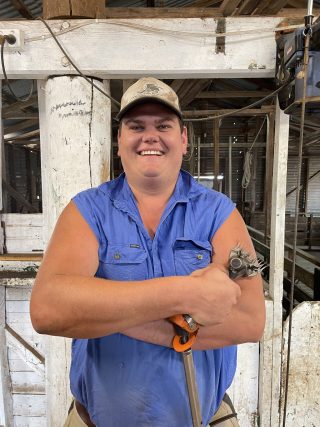 "The Future Farmers program certainly made it a lot easier to get a loan for a younger person, but you've still got to be able to service the loan and make the land pay for itself," Mr Keller said.
"I was going to buy a neighbour's farm three years ago, but I couldn't get a loan for it. The starting price was my finishing price and so I ended up leasing 150 acres (60 hectares) instead and grew wheat, then barley and hay.
"I shear for about six months of the year, and I also bought a header in 2019 with NAB's support so I could run my own cropping program and do contract harvesting to make more money.
"I trade a lot of sheep because it's a good way to make money so I can build up my own flock. During the year, I buy and sell 1,000 to 2,000 crossbred lambs which I run in a feedlot, and I've now got about 90 crossbred ewes and 170 crossbred ewe lambs, and they will be my breeding stock for next year.
"Last year, I was lucky enough to get a call from another farmer, offering me 560 acres (226 ha) to lease. I planted it all to lentils which was pretty risky, but it went about 1.8t/ha at a price just over $900/t and that really gave me a kick to try again to buy a block of land.
"This year, I'm growing canola, barley and wheat to try and spread the risk.
"You need to keep working hard to keep building savings because it's unbelievable how quickly land prices are rising."
Since 1990, the average number of farms under $500,000 has decreased by 54%, while the average value of farms, including land and fixed improvements, has increased by over 220%, according to AgSurf data from the Australian Bureau of Agricultural and Resource Economics and Sciences (ABARES).
NAB Executive Regional and Agribusiness, Julie Rynski, said backing the next generation of farmers like Mr Keller was exactly why Future Farmers was established.
"Hard work has got Mr Keller this far at the age of 27, and we can see what the next 30 or 40 years could be like. The sky is the limit for him," Ms Rynski said.
"Many first-time farmers like Mr Keller are finding different ways to build their experience in farm management and financial management. They are also finding different paths to achieve farm ownership such as leasing land to build stock numbers and experience before purchasing.
"Having enough equity has traditionally been a challenge for young farmers wanting to buy land. NAB Future Famers reduces equity requirements and allows us to back young farmers like Mr Keller.
"NAB is taking a longer-term view of the lending application. First-time farmers will have a dedicated and specialised local Agribusiness banker who will be assigned to help with the right support and banking services.
"Successful applicants like Mr Keller will have access to online business planning tips, tools and calculators to help with business establishment and management and build financial literacy."