Record low rates, a brief dip in property prices and new government incentives have driven a surge in first home buyer (FHB) activity over the past three months, according to NAB data.
The new figures reveal regional areas and outer suburbs to be most in demand among first-time buyers as commute times become less of a factor in choosing a home location for many Australians.
In the three months to October 31, lending to first home buyers at NAB increased by 21 per cent against the 12-month average. First home buyers represented the only growth in the market during this time.
"First home buyers are back in the market at levels we haven't seen for a decade," NAB Executive, Home Ownership, Andy Kerr said.
"Demand has been supported by historically low interest rates and more government support, such as the First Home Loan Deposit Scheme and HomeBuilder. A brief pullback in property prices also helped FHBs as the uncertainty of COVID-19 put many plans on ice, with investor demand slowing noticeably.
"As a result, many of our customers are telling us they are getting their dream home earlier than they thought possible, which is great news."
Queensland and WA grow strongly, regional NSW shines brightest
The growth in FHB lending has been across the country, while Victoria has had slower overall market activity due to the COVID-19 lockdown. However, even in Victoria a trend toward outer suburbs and regional areas has still emerged.
The strongest growth among the states came in Queensland, with FHB activity up 39 per cent during the three-month period. This was followed closely by WA (+37%), NSW/ACT (+31%) and SA/NT (+23%), while VIC/TAS lagged with modest overall growth of 3 per cent.
Regional areas across the nation recorded a 44 per cent surge in FHB activity, with regional NSW the standout (+57%) led by strong growth in Ballina, Port Macquarie and the Central Coast. Lending to FHBs in metro areas climbed 17 per cent, led by western Sydney and Ipswich in the Greater Brisbane region.
The demand in regional areas has started to translate in higher prices with the November CoreLogic Home Value Index showing 5.7 per cent growth in regional verses capital city growth of 1.1 per cent in year-to-date.
Mr Kerr said the trend toward buying in areas further from the city centre for lifestyle reasons would likely continue.
"Flexible working arrangements implemented due to COVID-19 are encouraging many Australians to consider a tree or sea change as easy access to the CBD moves down the priority list," he said.
"Many are seeing the potential of more land and a more relaxed lifestyle with easy access to areas like the Blue Mountains in NSW and Great Ocean Road in Victoria proving very popular."
Low interest rates, expected for at least the next three years, as well as continued government support should ensure FHBs remain very active in 2021.
"We've seen first-hand the value of the First Home Loan Deposit Scheme and the continued strong demand for it," Mr Kerr said.
"We expect this demand to continue well into 2021, especially given the current conditions make buying cheaper than renting for many prospective first-time homeowners."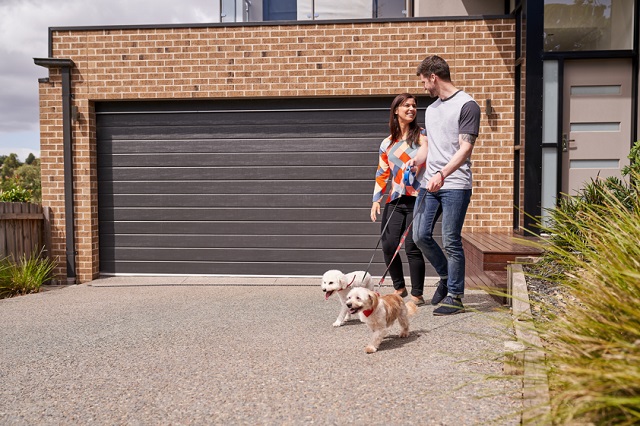 First home buyer hotspots – outer suburbs and regional areas*:
NSW
Greater Sydney
2127 – including Newington +70%
2150 – including Parramatta +66%
2174 – including Abbotsbury +157%
2560 – including Campbelltown North +48%
2570 – including Camden & Oran Park +38%
2747 – including Llandilo & Cambridge Park +54%
2750 – including Penrith +68%
Outside Sydney
2259 – including Wyong (Central Coast) +111%
2287 – including Wallsend (Newcastle) +65%
2444 – including Port Macquarie +143%
2478 – including Ballina +148%
"For first-time buyers the leading postcodes primarily fall into two regions: One is west of Sydney's CBD, from Parramatta through to the foot of the Blue Mountains, and the other is Camden and Campbelltown and the surrounding suburbs in Sydney's south-west," Mr Kerr said.
"There's positive stories across regional NSW, particularly coastal towns with the Central Coast one of the most significant growth areas for first homebuyers in the country. The access to quality beaches and more relaxed lifestyle are also obvious drawcards further north in and around Port Macquarie and Ballina."
VIC
West of Melbourne CBD
3217 – including Armstrong Creek +97%
3216 – including Waurn Ponds & Belmont +56%
3338 – including Melton South +38%
3029 – including Tarneit & Hoppers Crossing +22% (postcode with most lending to FHB in the state)
East of Melbourne CBD
3196 – including Chelsea and Edithvale +60%
3175 – including Dandenong +50%
3174 – including Noble Park +32%
3978 – including Clyde +32%
3810 – including Pakenham +27%
3977 – including Cranbourne +23%
"To find the most popular postcodes for FHBs in Victoria you need to head west of Melbourne's CBD to areas like Hoppers Crossing and the southern suburbs of Geelong, or south-east to suburbs such as Pakenham and Cranbourne. A common thread to many of the Melbourne locations is they are at, or near, the end of train lines. They are also typically a short drive to some of Victoria's best beaches, be it along the famed Great Ocean Road or the Mornington Peninsula," Mr Kerr said.
"We're also seeing early signs of interest in beachside towns around the start of the Great Ocean Road, such as Ocean Grove, Anglesea and Torquay, while inland there's growing demand in both Ballarat and Bendigo."
QLD
South-east
4118 – including Browns Plains (Logan City) +106%
4209 – including Coomera (Gold Coast) +94%
4300 – Greater Springfield (Ipswich) +67% (most lending)
4305 – Central Ipswich +93%
4306 – including Karrabin (Ipswich) +58%
4509 – including North Lakes (Brisbane) +99%
North and west
4817 – including Hervey Range and Bohle Plains (Townsville) +64%
4825 – including Mount Isa +115%
"In Queensland, the first home buyer hotspots are more widespread than in any other state, with postcodes in Brisbane, Ipswich, the Gold Coast, Townsville and Mount Isa all making the list. FHBs are considering plenty of options within an hour of Brisbane's CBD from Ipswich to the east, North Lakes in the north and Coomera on the Gold Coast to the south," Mr Kerr said.
"Cairns and areas just north of the Sunshine Coast just missed out but are also in demand, and are expected to remain that way as the sea change draws more converts."
WA
Perth
6061 – including Nollamara & Mirrabooka +107%
6062 – including Morley +78%
6107 – including Cannington +63%
6110 – including Huntingdale +91%
6112 – including Armadale +63% (most lending)
Regional
6430 – Kalgoorlie +62%
6530 – Geraldton +117%
"In Perth, you don't need to travel far to find value given a less buoyant property market over recent years. As a result, the most popular suburbs aren't as far from the CBD as in the eastern capitals. Areas north of the CBD have proven most popular among first-time buyers, including Nollamara, Morley and Mirrabooka, while there's also been growing demand in south-east suburbs like Huntingdale and Armadale," Mr Kerr said.
"Outside the capital, Kalgoorlie – which is seeing a jobs boom due to gold, nickel and rare earths mining operations – has drawn plenty of interest among first-time buyers, while Geraldton is also on the rise with its access to the renowned Coral Coast a clear selling point."
SA
Adelaide
5085 – including Clearview and Enfield +52%
5086 – including Oakden and Hillcrest +51% (most lending)
5108 – including Salisbury +68%
"There's plenty of first home buyers looking north in Adelaide, with suburbs like Oakden, Clearview and Salisbury among the more popular," Mr Kerr said.
"Looking south and while Morphett Vale didn't quite make our list, it remains in steady demand from first home buyers with its plentiful schools and parks, not to mention easy access to the McLaren Vale."
Background:
Every month, NAB lends, on average, $4 billion for customers to buy, renovate or refinance their home.
NAB is committed to providing a simple home loan experience for our customers. Enabled by our new application service, proprietary loans are already being approved conditionally within 60 minutes.
NAB was the first bank chosen to support the Federal Government's First Home Loan Deposit Scheme and more than 3,000 NAB customers have now settled into their first home with the help of the scheme.
Home loan appointments can be booked at: https://www.nab.com.au/personal/home-loans
* Based on growth over past three months versus 12-month average.