Following a tumultuous two years, NAB is urging Australians to support local business this Christmas with research showing Aussies set to spend an average of $562 on gifts for loved ones.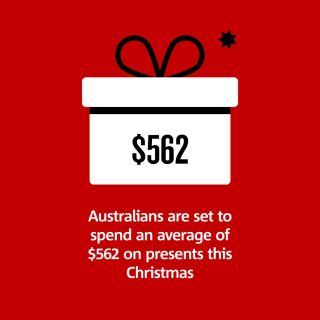 For around a quarter of us (26%), this will be more than last year, while the research finds 6 per cent of Australians that celebrate Christmas won't buy any gifts at all. The data also reveals shoppers are preferencing local stores and Australian-made gifts for their Christmas shopping this year.
NAB Group Executive for Business Bank Andrew Irvine said the data showed over 4 in 10 (44%) Australians willing to pay more if their gift was Australian-made or owned, news that will be well-received by local businesses.
"The past few years have changed how we view small business in Australia. We know how much they put in, and it's been tough," Mr Irvine said.
"Nothing excites a small business more than seeing their customers back on the shop floor, so we're urging people to think local this holiday season. Bumper sales are the greatest gift we can give Aussie small businesses this Christmas."
What we really want for Christmas … and what we are getting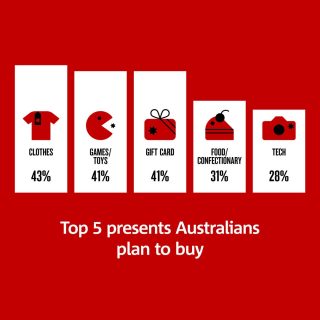 Clothing is the gift most likely to be found under the Christmas tree this year, with 43 per cent of Australians expecting it to be the top present they will buy. Children can breathe a sigh of relief though, with games and toys coming in second on the list of presents most Australians plan to give (41%), topping up those already left by Santa.
Gift cards are also expected to be very popular this Christmas (41%), particularly for men, many of whom appear to be struggling to decide what to buy (46% of men are planning on giving gift cards, compared to just 38% of women). Food and confectionery (34%) and technology (28%) are expected to round out the top 5 most gifted presents for 2021.
Top 5 Christmas gifts Australians plan to buy
Clothing
Games and toys
Gift cards
Food and confectionary
Technology
Top 5 Christmas gifts Australians actually want
Giftcards
Clothing
Food and confectionary
Alcohol
Technology
Brea Brand, CONNETIX Director said: "CONNETIX have already proved to be a huge hit for us this Christmas. We recommend our ball run for a sure-fire Christmas day hit that will get the whole family involved!  As an Australian business we are so grateful to those who choose locally owned products – it's been a tough few years for all but we've seen people put their arms around the retail small business community and it's so heart-warming."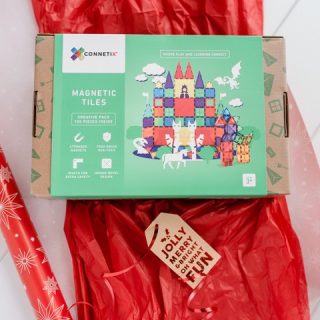 Nick Sims, co-founder of The Card Network said: "I'm not surprised that gift cards made it to the number one on the list this year. No one wants to disappoint at Christmas time and a gift card is the perfect way to make sure everyone is happy. We've seen sales of gift cards really spike this year with shoppers spending 41 per cent of their budget on gift cards, up from 27 per cent last year."
To support the small business recovery over Christmas and well into 2022, NAB has just relaunched Quickbiz to support cash flow and help businesses stock up.
"NAB small business customers can now access to up to $250,000 with cash available in their account within 20 minutes which is perfect for getting a head start on plans for the new year," Mr Irvine said.
In-store vs online
Over 4 in 10 (41%) Australians' plan to do more of their Christmas shopping in-store this year. This compares to around 34% online and 25% splitting their purchases between in-store and online.
Significantly more men (48% vs. 35% women) plan to shop in-store – perhaps supporting the stereotype of more last-minute gift buying – with noticeably more women than men (29% vs. 20%) splitting their shopping between online and instore.
Significantly more Traditionalists (59%) and Baby Boomers (52%) are shopping in-store, compared to Gen Y (32%), Gen Z (36%) and Gen X (40%). Around 4 in 10 people in Gen Y and Gen Z groups plan do to more of their shopping online, compared to around 3 in 10 in Traditionalists, Baby Boomers and Gen X.
There were also significant differences by state. Over 1 in 2 people in SA/NT (52%) said more of their shopping will be done in-store – twice as many as those in TAS (25%). This was also well above NSW/ACT (37%), which reported the highest number of planning to do more of their shopping online (40%) than any other state.