Digital invoicing technology helps NDIS providers streamline transactions with NDIS participants
HICAPS NDIS Invoice Anyone enables providers to run their businesses more efficiently
A more user-friendly processing system for the 600,000 Australians who rely on NDIS services
In a first for a big four Australian bank, HICAPS – NAB's dedicated healthcare claiming solution – has developed new digital invoicing technology to simplify and accelerate how healthcare and disability providers interact with National Disability Insurance Scheme (NDIS) participants.
HICAPS NDIS Invoice Anyone will help NDIS providers streamline how they transact with NDIS participants, which in turn, will grant participants better access to their choice of health practitioner.
NAB Group Executive Business and Private Banking Andrew Irvine said the creation of this new technology further underscored NAB's leadership in delivering secure, simple, easy to use and inclusive product innovations which tangibly improve how businesses, do business.
"Historically, healthcare payment systems have been cumbersome and difficult to navigate, which has resulted in poor user experiences for healthcare providers and patients alike," Mr Irvine said.
"As Australia's leading claims solution for more than 97,000 healthcare providers, we've been very focused on digitising and simplifying the NDIS claiming experience for everyone involved in the scheme.
"Our new HICAPS NDIS Invoice Anyone solution enables healthcare providers to run their businesses much more efficiently, while at the same time, providing a much more transparent customer experience for patients."
HICAPS NDIS Invoice Anyone has been specifically developed for businesses that provide healthcare and disability services to plan managed or agency managed NDIS participants, which accounted for 88% of the estimated $36 billion spent on National Disability Insurance Agency (NDIA) services in FY23. An accompanying HICAPS Terminal can be used by NDIS providers for self-managed participants.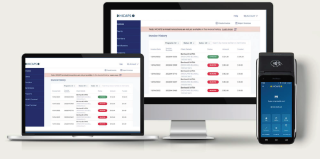 "Customers consistently tell us they want their payments devices and processes to be secure, simple and easy," Mr Irvine said.
"HICAPS NDIS Invoice Anyone – combined with the ongoing national roll out of HICAPS' new, best-in-class, smart Trinity Terminals – takes our service offering for NDIS providers to the next level, and further accelerates the industry's digital transformation.
Peninsula Foot Clinic Founder Andrew Cook said the integration of the new HICAPS NDIS Invoice Anyone tool into its business operations had markedly improved efficiencies and reduced the amount of time spent processing NDIS clients.
"Its simplicity is second to none and since adopting the system, we have managed to substantially cut processing times for our NDIS patients," Mr Cook said.
"This is a considerable productivity boost for us, and its smooth introduction is something patients have widely commented on, and welcomed.
"The guidance provided by HICAPS customer service has been invaluable as we worked to embed the solution into our business."
The creation of HICAPS NDIS Invoice Anyone is the first major development since LanternPay was acquired by HICAPS in 2022.
For more information on HICAPS NDIS Invoice anyone, please visit the HICAPS website.
HICAPS part of NAB Health
Formed in 1998, HICAPS is part of NAB Health – a group of businesses that includes Medfin – which specialise in providing financial services for practitioners, pharmacists and corporate healthcare businesses.
HICAPS is used by 100% of Private Health Funds in Australia and has over 90,000 registered health service providers nationally that provide patients the convenience of automatic claims processing on the spot, in the practice.
70% of HICAPS customers have already been upgraded to new state-of-the-art Trinity Terminals. The rollout will be completed before the end of 2023.
HICAPS is available to participating health services providers in 21 health modalities including General Practitioners, Medical Specialists, Dental, Optical, Physiotherapy, Chiropractic, Acupuncture, Remedial Massage, Podiatry, Speech Therapy, Counselling and Audiology.
NAB has more than 250 specialised health bankers across Australia.