Today NAB CEO Ross McEwan supported the launch of the Salvation Army's Red Shield Appeal in Sydney.
The Salvos are looking to raise $37 million through the appeal to support the critical services they provide to Australians in need. In doing so they are delivering a powerful message: 'nobody should struggle alone'.
In a Q&A session with Jessica Rowe, Mr McEwan discussed the hope the Salvos provide and their plans to grow over the coming years.
"[The Salvos] hold people, and support them until they can stand on their own," Mr McEwan said.
"And they are going through a big transformation. When you see some of the projects they're doing, they are huge transformations. And these are some of the things that society should be doing and we are asking this organisation to do it."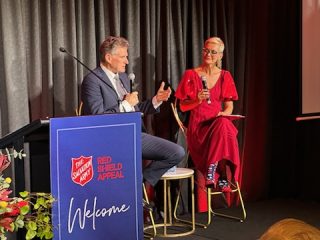 NAB was selected as the banker for the Salvation Army last year for our ability to digitise their banking and capacity to support their critical work through our volunteering and giving programs.
"We have a lot of things in common," Mr McEwan said.
"We are there to serve our customers. And we will serve them like they serve their customers. We believe we can bring a lot of attributes around helping with funding, helping with development.
"We saw this as a great cause, not just as a banking relationship. This is more than that."
Mr McEwan also discussed the ongoing impact of the rising cost of living on Australians and despite a strong economy overall, many people were finding themselves in difficulty for the first time.
"While we've got this magnificent economy going so well, and the envy of the rest of the world, we've got a group that is really, really struggling," he said.
"The people that you and I would probably think were fine are getting into difficulty.
"And we look at rentals, they are up 10% on last year. The average rental property in Sydney is $700, go across Australia it's about $540. And the rents are going up so quickly on people."
To support the Red Shield Appeal, NAB will be accepting donations on behalf of the Salvos in its more than 500 branches nationwide in June, the final month of the three-month appeal.
The NAB Foundation will also be matching donations of customers & colleagues dollar-for-dollar, up to $150,000.