Australians are off to see the world again, with overseas travel spending eclipsing pre-pandemic levels.
New insights out today reveal NAB customers spent $46 million on international flights, accommodation, car rentals, cruises, trains, tours and travel agents in May 2022, the largest monthly amount in three years*.
The credit and debit card transaction insights also reveal between 1 January 2022 and 31 May 2022:
NAB customers spent $157 million on overseas travel, almost 600 per cent more than the same period last year ($23 million)
Debit card was the most popular way to pay for overseas travel, followed by credit card and personal loans
The United States, United Arab Emirates and United Kingdom were the top three countries where Australians spent money in foreign currencies.
NAB Executive Everyday Banking, Paul Riley, said the data showed Australians were ready to explore again now borders were open.
"For many Australians it has been two years without international holidays, visiting overseas family and celebrating major milestones like weddings. It is great to see Australians embracing these important life moments again and putting aside money to make it happen," Mr Riley said.
"Australians are known for their love affair with seeing the world. We expect to see spending on overseas travel continue with the school holidays starting later this week and the European summer now underway."
Melbourne marketing manager and NAB colleague Briony Liston is among thousands of Australians preparing to head overseas in the coming weeks for a family trip to Italy and the UK.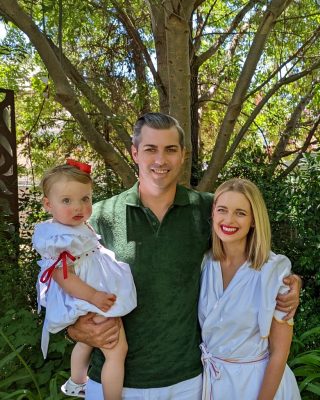 "We booked the flights at the start of the year and over the past few weeks and months have got into the nitty gritty, booking accommodation, car hire and things to do. It's easy to research online and then book," Ms Liston, 34, said.
"I'm most looking forward to seeing our daughter Violet experience new things in Italy, our favourite destination.
"It's been hard having our first baby during COVID and lockdowns, so this trip is really about making up for lost time and creating some memories as a family. Last time we went to Italy was on our honeymoon in 2019.
"Whilst this trip will be slightly different with a toddler in tow, we won't take travel for granted again after the last few years. We are so excited to get on that plane."
Mr Riley acknowledged saving for an overseas holiday could take time and encouraged customers to look at NAB's budgeting and planning tools and revamped FX calculator.
"MyGoals in the NAB app is ideal for customers wanting a simple and digital savings plan for milestones like an overseas holiday. You can see how much you need to save, how often, and easily check your progress," he said.
"We've seen more and more holiday goals created as travel opens up. About 25% of all goals were holiday-related in May 2022, compared with about 15% the same month last year.
"A NAB Classic Banking transaction account with a linked Platinum Visa Debit card has no foreign currency fees. In addition, customers can access complimentary travel insurance with a NAB credit card."
Notes to editors: 
In comparison, customers spent $43 million on international travel plans in May 2019.
Overseas travel is defined as international flights, accommodation, car rentals, cruises, trains, tours and travel agents.
MyGoals can be set up in three categories – holiday, home and other. Goals can also be individually titled. For example, our dream holiday.