NAB is excited to announce one of our leading private bankers has accomplished a prestigious international award.
NAB Private Client Executive, Natalie Irvine, was awarded Female Private Banker of the Year in the Global Private Banking Innovation Awards 2023. It is the first time an Australian private banker has been individually honoured with the accolade.
The awards, organised by Global Private Banker and The Digital Banker, identify, and celebrate the world's pre-eminent private banks, family offices and wealth managers, as well as distinguished individuals that demonstrate elite levels of client service.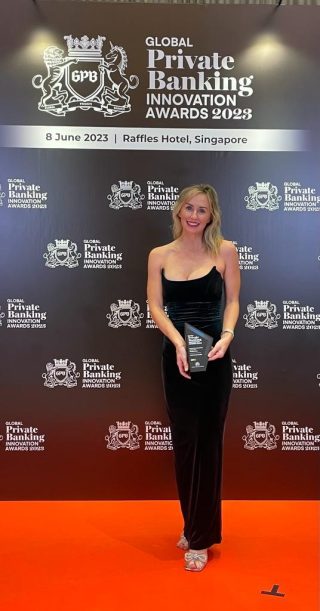 NAB Executive Private Wealth, Michael Saadie, commented that it's people like Natalie that have helped NAB Private Wealth become Australia's most awarded private bank.
"Natalie and so many others across our 1000+ strong private wealth team create a great work environment and allow us to focus on the needs of our clients," said Mr Saadie.
"We have all the elements to make NAB Private Wealth a consistently recognised leader in its field. Those elements include our leading advisory and research firm, JBWere, as well as investment and lending specialists delivering bespoke solutions to clients, as well as our market leading nabtrade platform.
"Nothing is more important to us than the success of our clients.  That's why we deliver a bespoke service, which brings together a team of specialists dedicated to helping our clients achieve their goals."
Natalie commented that it was an honour to receive the award on the global stage.
"Is a great example for women looking to enter the world of Private Wealth services, as well as a tribute to how NAB is a diverse and female friendly culture," said Ms Irvine.
Natalie's accolade comes on top of a string of awards NAB Private Wealth has achieved over the past two years, including:
Financial Times UK, Global Bank Awards – Best Private Bank in Australia.
Global Finance – Best Private Bank in Australia (for two consecutive years).
Asian Private Banker – Best Domestic Private Bank in Australia (for two consecutive years).
Euromoney Global Private Banking Awards 2023:

Best Domestic Private Bank in Australia,
Best for Ultra High Net Worth Individuals in Australia,
Best for Investment Research in Australia.