Record-breaking crowds at this year's Australian Open (AO) have helped inject more than $400 million into Melbourne's accommodation, hospitality and tourism sectors, new NAB figures show.
NAB transaction data* reveals consumer spending boomed across Melbourne, with an estimated $417 million splurged throughout AO 2023 – a 25% increase on AO 2020.
The data, provided by Australia's largest business bank, also indicates more than $300 million – 72% of this spend – was spent at Melbourne's bars, restaurants or fast-food outlets during the tournament.
NAB Executive for Small Business, Ana Marinkovic, said the return of a full capacity Australian Open had reinvigorated small businesses across Melbourne, many of whom were significantly impacted by pandemic restrictions over the past two summers.
"We estimate this year's Australian Open generated in excess of $400 million for the Victorian economy over the past two weeks – its biggest ever economic return," Ms Marinkovic said.
"This is fantastic news for Melbourne's small businesses, and it further underscores the importance of this event to the economic and cultural wellbeing of our city, and state."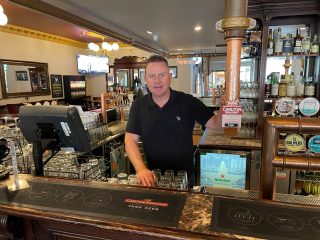 Mark O'Reilly, Managing Director of Bridie O'Reilly's, The Elephant & Wheelbarrow, Platform 28 and The Glenferrie Hotel, said the return of a full capacity Australian Open had been a much-needed boost for Melbourne businesses.
"Thousands of hungry and thirsty people passed through the doors of our venues throughout AO 2023. It was a real reminder of the ability of this event to attract a wide spectrum of visitors – both tennis and non-tennis fans alike," Mr O'Reilly said.
"There's no doubt the return of a full capacity Australian Open has helped the city get back on its feet this summer after a few very difficult years.
"The buzz has certainly returned to Melbourne and we're all excited for what the rest of the year has in store."

Notes to the editor:
*Estimates taken from spend at NAB merchant terminals in metro Melbourne between 16-29 January 2023.