"It makes me feel proud to help customers who are experiencing a dark moment of their lives. I supported an elderly couple who were taken advantage of financially by their children. It was very hard for them to talk about it, but I gave them the space they needed, and it was rewarding to know that I have made a real difference."
Those are the words of Kenneth Edralin – A NAB Associate working in the Customer Support Hub.
Since 2019, the NAB Assist Customer Support Hub has supported more than 11,658 customers experiencing vulnerability.
Among the four most common issues experienced by vulnerable customers include financial difficulty (26.22%), domestic family violence (26.11%), scams (13.98%), and financial abuse (6.43%).
Group Executive Personal Banking Rachel Slade said working sensitively together with customers who are experiencing vulnerability, finding solutions and support that is right for their circumstances, is a key strength of the dedicated support hub.
"There are all sorts of ways customers can become vulnerable and require more support with their banking," Ms Slade said.
In 2019, the support hub was a key creation from NAB's Customer Vulnerability Framework, a Framework developed to ensure more inclusive banking services and better support for customers in moments that matter.
The specialist team assists customers who are in difficult circumstances, handling their needs with extra care. With specialist training the team helps with longer-term banking support, if needed and refers customers to community support partners for assistance, when appropriate.
In addition to the support hub, a wide range of other supports have also been introduced, including a block on gambling transactions customers can apply via the mobile app; an easy guide to everyday banking; and a phone interpreter service for customers with limited English.
NAB's Customer Vulnerability Framework has now recently been refreshed around three key areas. Identifying customer vulnerability earlier and taking action. Reducing financial abuse in all its forms and preparing and responding to natural disasters and pandemics.
"The events of 2020 have shown us that lives can change overnight with the bushfire season and then global pandemic bringing the need for more support for our customers into clear focus.

"These events have hurt Australians personally and financially and it can happen to anyone of us. Our revised Framework refocuses our approach on how we help customers get them through these tough times.

"We know that by recognising the signs earlier and taking action to support our customers, results in a better outcome for them," Ms Slade said.
The focus on recognising the red flags and sensitively enquiring further with the customer aims to reduce financial abuse. Financial abuse by a family member or authorised third party who should be acting in a customers' best interests (such as a Power of Attorney) is often hidden and can be hard to detect. Especially, as customers can feel incredibly uncomfortable or fearful of speaking about it or even understanding that it is happening to them.
Table 1 Vulnerability Cases (June 2019 – August 2021)
| | | |
| --- | --- | --- |
| | Total Cases | Percentage |
| Financial Difficulty | 3057 | 26.22 |
| Domestic Family Violence | 3044 | 26.11 |
| Scams | 1630 | 13.98 |
| Other | 1268 | 10.88 |
| Financial Abuse | 750 | 6.43 |
| Elder Abuse | 438 | 3.76 |
| Gambling | 417 | 3.58 |
| N/A | 316 | 2.71 |
| Homelessness | 259 | 2.22 |
| Mental Illness | 204 | 1.75 |
| Serious Illness | 114 | 0.98 |
| Age Related | 65 | 0.56 |
| Cognitive | 58 | 0.50 |
| Bereavement | 38 | 0.33 |
| Total | 11658 | 100.00 |
Financial Difficulty
The chart below shows that financial difficulty rose sharply between January 2020 and April 2020. This is most likely due to the impact of the January Bushfires and COVID-19.  It is also interesting to note that while the call volumes consistent between May 2020 and December 2020, they were still substantially higher than the monthly number of cases pre-January 2020.  Volumes have stayed consistent between January 2021 and June 2021 and are lower than 2020 levels reflecting the improved economic environment.
Scams
The number of scam calls increased from Apr 2020 – this is likely to be due to COVID-19 which resulted in more people staying at home, being isolated and therefore more susceptible to scams of various kinds such as romance and investment scams.  The trend remained steady with an increase from April, 21 due to the Hope investment scam.
Domestic and Family Violence
DFV cases stayed relatively consistent although higher numbers can be observed in January / Feb (bushfires) and numbers steadily rose from April 2020 – Oct 2020 reflecting more people staying at home due to covid19. The trend has remained steady since.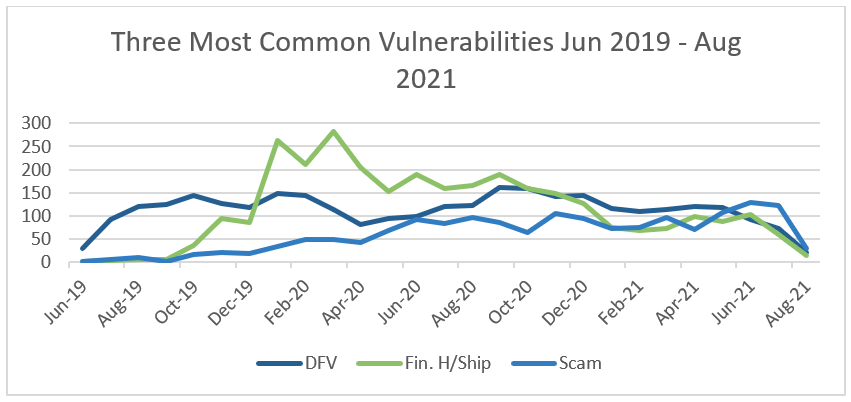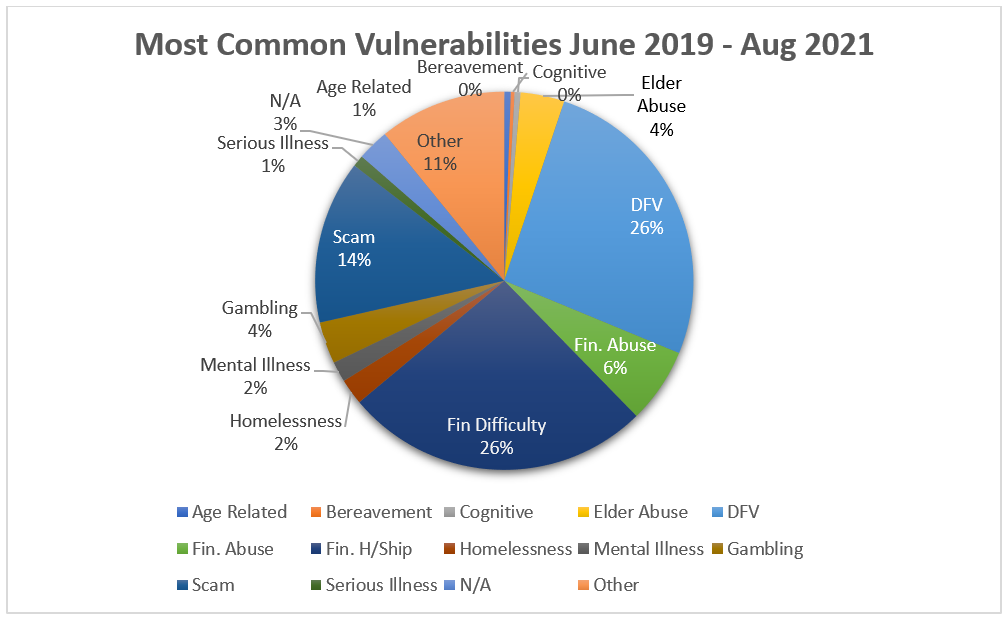 Case Study:
Jean and Peter* are NAB customers in their late eighties, and came into a branch with their son who was asking to be added as an authorised third party to all of their bank accounts. The couple appeared confused and did not understand what was going on. Thanks to our frontline team working together with Kenneth in the support hub, we were able to prevent Jean and Peter's son from having access to their bank accounts, as it was later determined that he intended to use funds to purchase a property in his name alone, without Jean or Peter's understanding or consent. Instead a suitable alternative was put in place to assist them with their banking.

*names changed