It's not every day 300 farmers gather in the woolshed to share knowledge on sustainable farming practices, but today is Wilmot Cattle Company's annual field day.
The two-day (sold out) event at Wilmot's farm in Hernani, NSW, features industry experts, guest speakers and local heroes, all coming together to discuss everything from improving grazing outcomes to mental health and well-being.
Stu Austin, Wilmot Cattle Company's General Manager, and respected leader in regenerative farming, started Wilmot field day in early 2019 to support fellow farmers through the drought.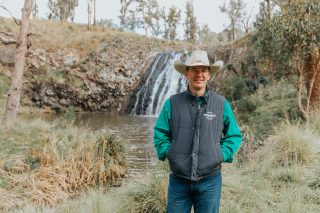 Stu said he expected around 50 farmers to show up, but to his surprise, 250 farmers arrived and the numbers have been growing ever since.
"We're a passionate bunch here at Wilmot," Stu said. "We love this Company and the work we do, but the thing that gets me up in the morning is helping others."
"We've been successful with our regenerative grazing principles for a while and have always been keen to share our learnings so others can benefit as well."
In simple terms, Stu says regenerative grazing uses livestock to restore the ecological function of the land.
"We're basically rotating large amounts of cattle through small paddocks, grazing for a very short period, and then not coming back to that same area until that pasture has fully recovered. This allows for more diversity in the landscape, creating a healthier ecosystem for the soil and for the animals."
The road to Paradise
With four farms under their belt, Wilmot Cattle Company isn't stopping. Under a NAB Agri Green loan, the carbon conscious farmers will continue their good work at Paradise Creek, a farm in NSW's Inverell district.
"Some people love renovating houses; I love renovating farms" Stu said. "This will be an exciting project for us and a significant step on our pathway to being carbon neutral."
Alyssa Ho, NAB Agribusiness Banker said; "I am so impressed by the quality of the farming principles at Wilmot Cattle Company. You can instantly see how their passion for restoring the land translates into ecologically healthy paddocks."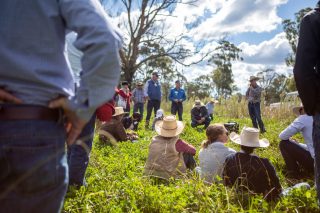 "It's been especially rewarding to see how Wilmot Cattle Company's sustainable principles can be converted into measurable outcomes."
"It's great that our NAB Agri Green Loan has supported Wilmot Cattle Company's vision while also supporting the long-term investment and sustainability of Australian agriculture."
NAB launched its first Agri Green Loan in 2021, designed to help agribusinesses reduce net emissions and be more sustainable.
NAB's Agri Green Loan is currently in pilot phase with select customers. A national launch is expected in 2022.