Max On Hardware has long been an icon of Melbourne's Hardware Lane.  Now, after weathering the pandemic, the family behind the restaurant is turning their attention to expansion.
Max On Hardware, owned by brothers Ali and Michael Ibrahim, serves wood fired pizza, pasta and classic Campari in a classic cobblestone laneway.
Born in Lebanon, Ai and Michael arrived in Australia as teenagers, quickly picking up roles in the hospitality industry.  After buying, building up and selling a series of cafes across Melbourne, they decided to take the plunge and buy an established restaurant – Max On Hardware 17 years ago.
A new venture
The pandemic has been challenging in many ways, but the family has been forging on.  They are busy getting ready for Max On Hardware's next venue – opening a café in the entrance of NAB's newest head office, 395 Bourke Street.  They are looking forward to the venture and the flexibility it will offer to manage their multiple venues.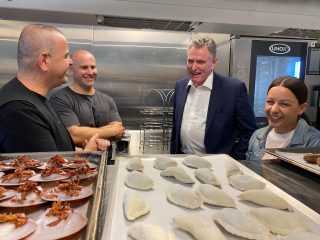 Ali's wife Melissa Portelli, has also been a constant for the business – she will lead the team while juggling two children.  "I'll do school drop off and then pop into NAB Place at 395 Bourke Street to see out the workday.  I can't wait for it to be up and running.  I've designed the menu, so I feel incredibly excited about making it a success."
It's taken a monumental family effort to get to this point.  Michael said the pandemic was a shock to the team at Max, "to be at home all of a sudden after working constantly since we were teenagers was really strange."
"The hardest thing was seeing what our team was going through – they all have families of their own and mortgages, we were working so hard to make sure they were able to get through ok."
"Now that Melbourne feels like it is back and open again, our team is returning which is so nice.  They are like family – most of our chefs have been here since we bought the place, we've been together for 17 years through thick and thin."
One of the biggest challenges Max On Hardware now faces is hiring front of house staff.  Right now, the restaurant is staffed with extended family members, nieces, nephews and Michael's eldest son, while international students are absent from the Melbourne CBD.
Getting international students and tourists back to the Melbourne CBD is the next milestone the team is looking forward to.
"Once we have tourists back and students who want to work, we can commit to having the restaurant open longer hours and things will feel back to normal."
Feature image above: from left co-owners of Max on Hardware – Michael and Ali Ibrahim with NAB CEO Ross McEwan.