NAB and Brookfield Properties have partnered to bring to life a sustainability-linked loan for the bank's new Melbourne headquarters at 395 Bourke Street.
The loan supports NAB and Brookfield's commitment to increase the sustainability performance of the building by reducing waste, saving energy and managing resources through the construction and operational phases of the building.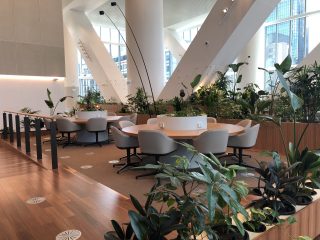 NAB Group Executive, Corporate & Institutional Bank, David Gall said NAB's new home at 395 Bourke Street embedded environmentally friendly design and operational characteristics.
"Brookfield have been a long-standing partner of NAB. From the outset of the process to develop the sustainability-linked loan, we wanted to create a liveable and sustainable commercial hub in the heart of Melbourne's CBD, but also incentivise Brookfield to lower ongoing environmental impacts through the sustainability-linked structure."
Brookfield Asset Management Head of Portfolio for Real Estate, Shane Ross said Brookfield wanted to balance economic goals with being responsible corporate citizens.
"Our investors and financiers are increasingly asking us to look for more ways to reduce our carbon footprint in response to their own ESG priorities. It's terrific to have the support from NAB on this project for their new home in Bourke Street."
NAB employees moved into 395 Bourke Street in late October. NAB Place Melbourne will be a key hub for the bank's Melbourne-based employees, along with the 700 Bourke Street at Docklands.
This is the second new corporate office building NAB has launched this year. The bank opened NAB Place Sydney at 2 Carrington Street, which was also financed via a sustainability-linked loan in May 2021.