Australians are expected to spend almost a million dollars a minute between Black Friday and Cyber Monday this year, according to new NAB economics analysis.
Online and physical tills are expected to ring to the tune of $5.5 billion around the country, with NSW ($1.74bn), Victoria ($1.45bn) and Queensland ($1.12bn) predicted to see the bulk of spending.
Computers, appliances, games, toys, clothing and cosmetics are forecast to be among the most popular purchases, based on data analysing previous year's spending trends.
The top areas in 2020, according to NAB data, where shoppers lived in each state can also be revealed:
Central Coast (NSW)
Casey (VIC)
Brisbane (QLD)
Onkaparinga (SA)
Stirling (WA)
Clarence (TAS)
Darwin (NT)
NAB Group Executive Personal Banking, Rachel Slade, said the shopping season was well and truly underway.
"Despite originating in America, Black Friday and Cyber Monday are now a shopping bonanza in Australia, with $5.5 billion expected to be spent," Ms Slade said.
"One in six of all November retail sales happened during this four-day period last year and we're anticipating similar trends this year as the economic bounce back continues.
"Our most recent estimates show e-commerce makes up about 15% of all retail sales during the year, but this surges to almost 30% during this discounted shopping period."
Ms Slade said preparation was critical for shoppers planning to bag a bargain.
"Now's the time to set a budget, research prices and plan your shopping experience," she said.
Chris Anastasi and Nathaniel Anthony, co-owners of Muscle Nation, one of Australia's leading Activewear and Supplements brands, said during the pandemic there was definitely an increase in online sales.
"This Black Friday sale season will be no exception," Mr Anthony said.
"We have been campaigning our Black Friday sale online for weeks in advance to generate hype and excitement.
"Our community always looks forward to our yearly Black Friday sale. This year we are releasing more than 200 new items, free gifts and a huge $100,000 cash giveaway for customers who purchase during our Black Friday Sale".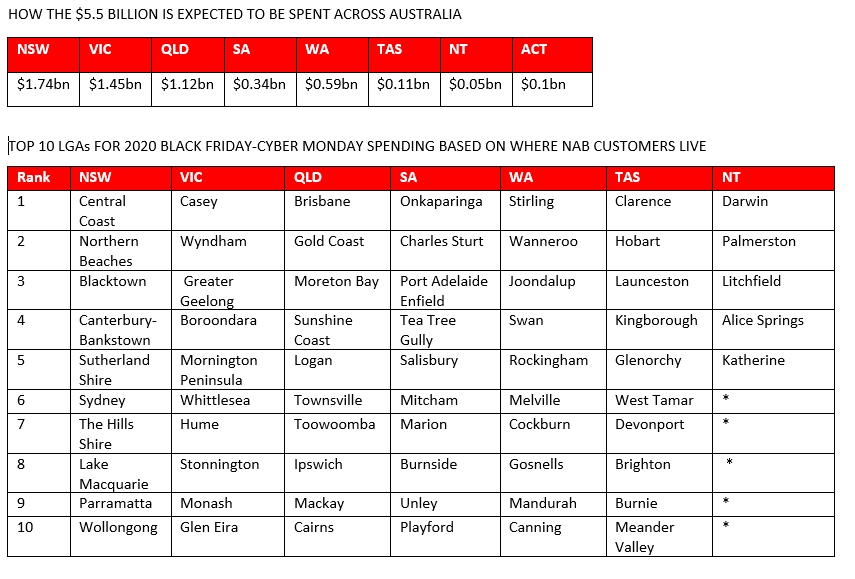 Note to editors:
Black Friday and Cyber Monday occur on Friday 26 November and Monday 29 November 2021 respectively.
The equivalent four-day period in 2020 occurred between Friday 27 November and Monday 30 November 2020.
Data is NAB personal customer debit and credit spending data at retail merchants and weighted to be representative of the Australian population.
However, LGA data only relates to NAB customers.
LGAs are local government areas as listed by the Australian Bureau of Statistics.
The ACT does not have LGAs and has, therefore, been excluded from the localised breakdown.
Only the top five LGAs in the NT have been included given small population of state and sales.
All retail sales include physical stores and online including supermarkets and take away food.
For further information:
Media
Amelia Harris                                                                                  Joe Adamo               
M: +61 (0) 439 830 940                                                                 M: +61 (0) 436 950 992
NAB Media Line
P: +61 (0) 3 7035 5015