Regional South Australia and Queensland recorded the strongest annual growth in migration of city dwellers to regional areas through 2021, NAB's quarterly Regional Migration Impacts on Property Report reveals.
Released this week, the report shows regional migration to SA's Port Augusta was up 54% in 2021, followed by the Far North Queensland local government area (LGA) of Douglas, up 49% and the Queensland LGA of Western Downs up 48% in 2021.
The report reveals that while regional migration across Australia remains strong, the final three months of 2021 saw a slight slowing of new arrivals to regional areas from major capital city locations.
In the December 2021 quarter, the number of people relocating to regional Australia slowed, down 10% compared to the third quarter of 2021, partly due to the high movement already seen in previous quarters and accelerated regional housing price growth.
NAB Executive Regional and Agribusiness, Julie Rynski, said the continued flow of new arrivals into regional areas has placed an unprecedented level of upward pressure on property values, with many locations now experiencing dwelling values at new record levels.
"The green change or tree change is well and truly here. It's such an exciting time and great news for regional communities. More people moving into regional Australia leads to more investment in community schools and hospitals – which is great news for everyone," Ms Rynski said.
"Buyers across the regions have further demonstrated their appetite for wide open spaces, more so than higher density living. As a result, the combined regionals sat a further 1.8% higher over the month of January 2022 and have climbed 6.3% over the past quarter.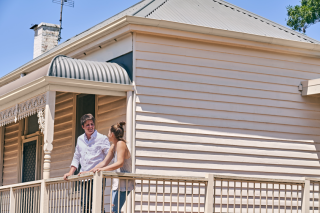 "Underlining the unprecedented level of growth across the past 12 months, 24 out of Australia's 25 largest non-capital city regions have experienced double-digit annual growth for houses, with 18 of these regions achieving value gains of greater than 20% over the 2021 calendar year.
"Of the regions, the Southern Highlands and Shoalhaven region in NSW achieved the highest annual house value growth in the 12 months to the end of January 2022. "Similar pressures have been applied to the rental market, with record level annual rental value growth being recorded amongst a wide range of regional markets.
"Leading the way over the past 12 months has been the Murray region of NSW, which is home to Albury-Wodonga, with housing rental values almost 25% up on the same time last year."
Ms Rynski said high-population coastal centres close to capital cities continue to be the main destinations for capital-city dwellers making a regional move.
"Queensland's Gold Coast and Sunshine Coast, Victoria's Greater Geelong, and the NSW centres of Wollongong and Lake Macquarie were the top five LGAs by share of regional migration for the 2021 calendar year," Ms Rynski said.
"The majority of net outflows in 2021 came from Sydney and Melbourne, with more lockdown restrictions throughout the year accelerating departure to the regions further."
While the rapid migration of capital city residents to regional areas is expected to continue into 2022, the pace is expected to slow as Australia continues to recover from the 2020-2021 period with restrictions being lifted, particularly regarding travel.
Click here to read the full NAB Regional Migration Impacts on Property February report.