Studies show younger generations – including Gen Z and millennials – care less about cyber security than older generations, so Heidi Winter is working to change this.
Gen Z and millennials might be labelled as 'digital natives' who've grown up with computers, smart phones and technology, however studies show they're less likely to care about cyber security.
The 2022 EY Human Risk in Cybersecurity survey found younger generations were likely to use the same password for professional and personal accounts, and they were also more likely to accept web browser cookies on work-issued devices.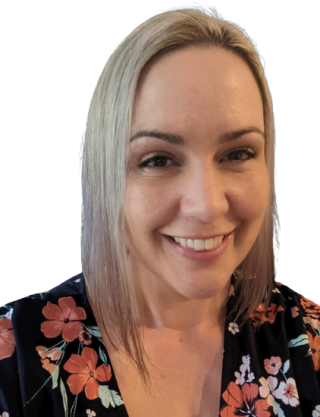 For Heidi, educating young people and making them aware of cyber security was a passion that took off in 2017 and has been gathering momentum ever since.
Heidi – who is now a Senior Consultant in NAB's Cyber Threat and Vulnerability Intelligence team – was approached to run security-focussed STEM workshops for a National Science Week in 2017.
"It was a time when these sorts of activities for kids didn't exist, so I accepted the challenge and worked to develop a fun workshop to get kids learning about security," said Heidi.
Her work with National Science Week was a hit, and from that, the award-winning Kids SecuriDay was born.
"I knew we were on to a good thing, and I had to keep the momentum going," said Heidi.
Fast forward to 2021 and Kids SecuriDay was crowned the 'Best STEM Program' at Australian Information Security Association's awards.
"We have now developed a suite of workshops – from 'Cyber Kung Fu 101' to 'Physical Security' and 'Hack a Bank Games' – to introduce young people to technology and show them how to stay safe when using it," said Heidi.
"My team are passionate security professionals who understand the challenge and opportunity of building engaging workshops so that kids and families can easily learn by simply doing what they do best – playing."
The group now runs events for young people (aged 6-16) across the globe, and most recently secured interest from a local foundation to roll out education events in PNG from February.
"It hasn't always been easy, but it has been an excellent journey and the more we can do to educate ourselves and the next generation, the better," said Heidi.
"One of my biggest highlights to date was speaking about our work at the Diana Initiative conference – an annual computer security conference in Las Vegas."
Having recently joined NAB, Heidi is calling on more of her colleagues and the bank's network to get involved in this global initiative.
"Whether you're new to tech or an old hand, everyone is guaranteed to learn something new," she said.
"The more people hear about this group, the safer we can make our community, so I encourage you to check out our website.
"If there's not an event in your area, we want to hear from you and understand how we can support your region. We also have mentor opportunities for those who want to join us in making a difference."
The next Kids SecuriDay workshops are being held in Melbourne on Friday, 27 January. Workshops are free and it's first in, best dressed. More details can be found on the Kids SecuriDay website.