New NAB research shows the impact of government incentives across Australia in helping First Home Buyers get into the market earlier, according to property professionals.
NAB Executive, Home Ownership, Andy Kerr said while COVID-19 lockdowns were presenting many challenges for families and businesses, there is still strong momentum in the housing market.
"We recently saw our strongest month of home lending on record in June which is a sign of very strong demand," Mr Kerr said.
"Confidence in the housing market continues to improve and that shows in the amount of activity we are seeing through mortgage applications.
"We understand there are headwinds in slower population growth and the impact of rising house prices. However, we expect low rates and government programs like the First Home Loan Deposit Scheme to continue to drive a strong housing market.
"Despite the current lockdowns impacting the lives of many Australians, there is still appetite for conversations with customers to buy a home. More than a third of appointments in the last week were conducted via video."
With rising house prices now having a bigger impact, the survey also found more than 1 in 2 First Home Buyers in Australia are more willing to build or buy new builds now compared to two years ago – ranging from 46% more likely to buy in NSW to 83% in the NT.
The survey shows the overall number who were more willing to build or buy new builds outweighed those who said they were less willing to do so (+54%).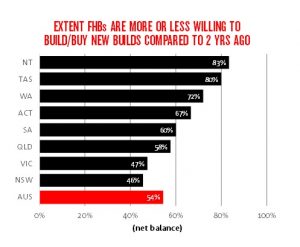 Among other trends in new property markets in the June quarter, property professionals estimated the overall market share of sales to owner occupiers (net balance of First Home Buyers) rose to a two-year high of 34.9% (30.1% in Q1).
Buyers in this segment were most active in NSW (38.5%), QLD (37.5%) and least active in WA (30.0%) and SA (30.0%).
Impact of Government Incentives on FHBs
Government incentives – such as the Federal Government Home Loan Deposit Scheme are playing a more significant role in Victoria in helping First Home Buyers get into the market earlier.
South Australia (6.8) was next, followed by QLD and the ACT (6.7) along with the NT and NSW (6.3).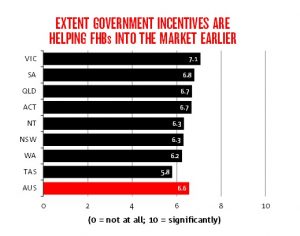 Impact of house prices
Rising house prices are having a more significant impact on First Home Buyers, with property professionals on average scoring 7.7 pts out of 10.
The impact was biggest in NSW (8.3 pts) and the ACT (8.2 pts), where house prices are growing strongly, and median house prices are also highest in the nation.
The impact of house prices for First Home Buyers was lowest in the NT (5.8 pts) where median house prices are also the lowest in the country.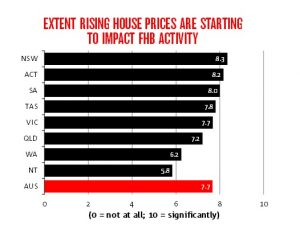 Click here to view the NAB Quarterly Australian Residential Property Survey Q2 2021
For further information:
Media 
Calum Young                                                           NAB Media Line 
M: +61 (0) 472 863 630                                              P: +61 (0) 3 7035 5015