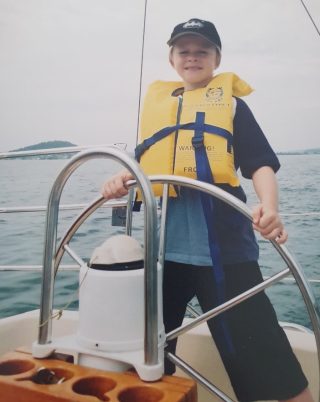 Sailing and banking runs in the family for NAB Business Banking Manager Braeden McHugh, going back three generations.
"My parents and my grandparents sailed. Granddad was in the sailing trials for the Olympics, so it's in the blood," Braeden said.
"When I was a little boy my parents took me to Sydney Harbour to watch the start of the Sydney to Hobart yacht race. Ever since I was a little kid I've always been mesmerised by the race, and it's been a life-long goal to compete in it."
Over the break, Braeden lived his dream and raced in the 2022 Rolex Sydney to Hobart Yacht Race with the Hutchies Yeah Baby crew.
The fifteen-person crew completed the race in three days, two hours and 17 minutes, placing 31 out of 109 yachts!
Braeden's role on the boat is a bowman, stationed at the very front of the boat controlling the sails whenever the strength or angle of the wind changes to maximise the speed of the boat.
The bowman is one of the more physically demanding positions and is most susceptible to being washed off the boat!
"We knew the Bass Strait has some of the most formidable seas in the world – you're just at the mercy of the ocean," Braeden said.
"I nearly got washed off three times, my harness saved me. You've pretty much just got to hold onto the rail, hold your breath when you go under and just hold on as tight as you can then when you come up wash it off."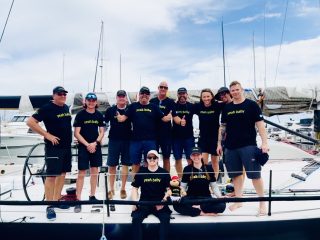 In the race, the Hutchies Yeah Baby crew broke the speed record four times with a top boat speed of 30.77 knots, the equivalent to 57km/h!
Braeden said constantly monitoring conditions and adapting the sails accordingly has similarities to working in commercial banking.
"You have to be adaptable and read the environment constantly," he said.
Sailing has also taught Braeden the importance of teamwork, good communication and stress management.
"The Sydney to Hobart is an endurance race with some really extreme moments and highly-critical situations. But it helps you understand yourself and teaches you to handle highly intense moments well, which is what you need in commercial banking," Braeden said.
"You have some very acute, time sensitive requirements in banking, meeting settlements and achieving finance deadlines. Ocean racing teaches you to just remain calm, work with your team, rely on your team, trust in your team and work together as efficiently and quickly as you can to achieve an outcome and get it over the line."
Braeden said he couldn't have done the race without the support of NAB and his People Leader, Business Banking Executive Sharon Lincoln.
"When I was in the interview I said I'm training for the Sydney to Hobart and would need a bit of flexibility with leave. They were fantastic. It was really demanding training for the race and at the same time I was getting my DCA qualifications and learning the NAB way and how all the new systems work. It's been a big year of learning for me!"
"Over the past four years I've been building up for this race in particular. A big thanks to NAB and Sharon for giving me a lot of flexibility. It was a big ask of NAB, in my first year here.
Now, Braeden is leveraging his experience and connections and is currently bringing on three large new to bank clients in the marine industry, a specialist industry for him.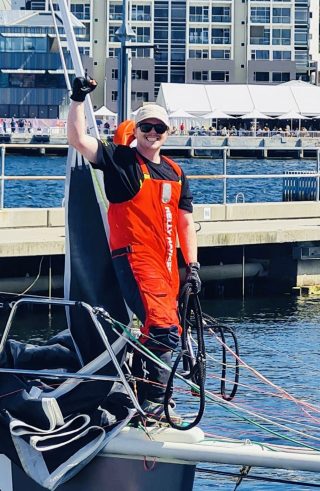 Sharon said it has been rewarding to see Braeden achieve both his goals.
"Braeden is really passionate about the marine industry and has built a good community through his sailing. He is also very goal-orientated and sets himself challenges and then breaks that down into manageable chunks so he can achieve them. I think that's part of what helped with his success – the way he is with his sailing, he does that in the same way for work," Sharon said.
"It's rewarding for me to see him achieve both his work and sailing goals and to see how focused he is. It's quite exciting for our team too,' Sharon said.
Stepping back onto land at the end of the race, Braeden described the feeling as "euphoric."
"It was an absolute sense of achievement of a life-long dream. Another dream was to secure a commercial banking role on the Coast because that's where I'm from. So I fulfilled two major dreams in a year," he said.
"I'm looking forward to 2023, continuing in the Yeah Baby racing team as well as my team at NAB and lifting the bar higher again this year!"