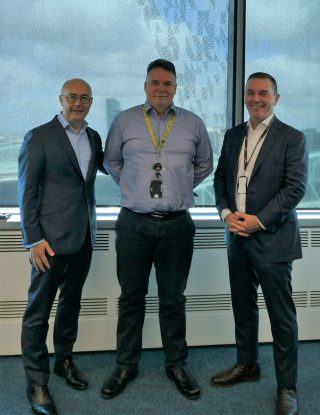 John Morrow has dedicated half of his 40-year NAB career to fighting financial crime.
"It certainly doesn't seem like 40 years. Yet looking back, I can see that today's NAB is as far removed from the National Bank of Australia, as I am from the shy teenager who walked through the door of our Emu Plains branch in 1982," John said.
"I have enjoyed several very different careers with NAB in those 40 years. That's an opportunity that few companies can provide."
Prior to becoming part of the Financial Crime team in 1998, John worked in Retail and Corporate Banking, Corporate Real Estate and Security Services. More recently John enjoyed a 12-month stint in NAB Resolve.
"NAB Resolve provided an opportunity to work alongside colleagues who I had previously collaborated with in course of investigations," John said.
"Assisting in restoring a customer's trust after a mistake or traumatic event is most rewarding, and a reminder of who we are here for."
John's career started straight out of high school. He was appointed Ledger Keeper at Emu Plains branch in NSW, a short bike ride from home. His next posting was North Sydney branch.
John experienced or witnessed five armed hold-ups in his time as a teller in Western Sydney.
"A young man walked up to my tellers box, late one Friday. He was clearly inebriated, and I was confident that his singlet and stubbies provided nowhere to conceal a weapon. He threw a calico bag over the counter, yelling "$50s and $20s"," John recalls.
"I dropped the cash bundles from my draw into a secure chute and placed a wad of muted (unusable) banknotes into his bag, together with a small amount of foreign currency. There was not a lot of bulk in the bag, so I popped in a couple of cinnamon doughnuts that a customer had given me, then tied it off with an elastic band. Poor old mate left with not much more than afternoon tea."
It was an incident that occurred in Foveaux Street branch in 1992 that piqued John's interest in financial crime. One of John's tellers received a call from a customer advising that he would be sending a taxi to pick up a cheque book.
"I was concerned that our customer was unwell, as he was quite elderly yet always managed to walk the two blocks to the branch to do his banking. So, I rang, and it turned out he was fine and had plenty of cheques left in his book," John said.
When the fraudster turned up to collect the cheque book, he was quickly arrested. The matter went to court and led to John meeting the Bank's then Head of Fraud for NSW, where John asked about career opportunities in the space.
Six years later, John was offered a role and 24 years later, remains part of Group Investigations and Fraud (GIF) at NAB.
The advent of the Internet presented opportunities for criminals to steal larger sums of money and harder to be caught. This brought about new challenges to the Bank, John said.
"Perhaps the most rewarding aspect of my career in Group Investigations & Fraud has been collaborating with experts in methodology, technology, strategy and law enforcement to proactively manage financial crime risk for NAB, our customers and communities."
John now works as an Investigator in the Insider Crime and Integrity Risk team, responsible for detecting and preventing internal fraud and serious misconduct.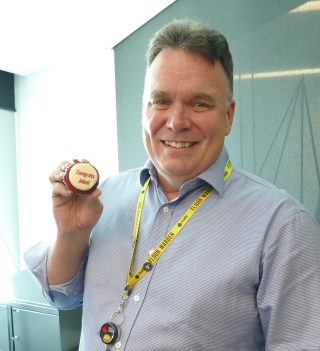 He is passionate about promoting awareness of financial crime, externally but most importantly to our colleagues.
"I love hearing about diligent employees saving customers from making an expensive mistake. It's so important to have those conversations – get the word out to family, friends and colleagues," he said.
If John could go back 40 years, what advice would he give to his younger self on his first day at NAB?
"The key to maintaining passion throughout your career is to look beyond job satisfaction. Consider instead how your work, and more importantly your words actions, and attitude, contribute to the ambitions of others. You'll find your work more fulfilling."
Keeping our customers' money and information is important to NAB. Find out what to do if you've been the victim of fraud or scams, learn how we're working to keep you safe, and ways that you can protect yourself from scams at the Security at NAB website.