The sharemarket is fast becoming the playground for a new breed of investors, with new data from nabtrade showing young traders entered the market in record numbers in 2018.
Fresh data from nabtrade showed that while turnover among the older generations continued to grow, it was the Gen Z and Gen Y investors who recorded the biggest gains – up 73 per cent and 20 per cent respectively in the 12 months to 31 December 2018.
"Over the past two years, we have seen a significant rise in the number of young investors turning to the sharemarket for wealth creation,'' said Gemma Dale, nabtrade Director of SMSF and Investor Behaviour.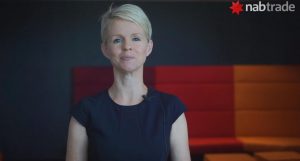 Click the image to hear from nabtrade's Gemma Dale talking about the top buys of 2018.
"These are serious investors, who are studying the local and international sharemarkets closely and buying shares they know, and investing for the long term."
Total domestic turnover rose 2 per cent in the 12 months to 31 December 2018, with the number of customers with local shares rising 13 per cent.
Ms Dale said while there wasn't too much movement in the top ten domestic holdings across the generations, investors reweighted their sector exposures throughout the year.
"Our data showed Baby-Boomers and Gen X investors reduced their overall exposure to financials, consumer discretionary and telcos but increased their holdings in healthcare, consumer staples and material stocks,'' Ms Dale said.
"This reflects their concerns about headwinds facing these sectors but also a recognition of how heavily overweight some of these much-loved sectors had been for long term investors.
"Interestingly, Gen Y investors slightly increased their exposure to financials during the year by 1.5 per cent but reduced their holdings in materials, healthcare, consumer discretionary and telcos,'' she said.
The top ten domestic buys among Baby-Boomers and Gen-X remained traditional blue-chip stocks such as NAB, CBA, Westpac, BHP and Telstra, while top picks among Gen Y and Z investors were A2 Milk, Afterpay; AMP and Vanguard's ASX200 ETF.
Demand for international shares accelerated nearly 30 per cent in 2018, with online trades soaring 38 per cent among Gen Z investors, 32 per cent for Gen X and 31 per cent for Gen Y.
"The number of new customers dabbling in international shares also rose 32 per cent, led predominantly by Gen Z, Gen X and Gen Y investors. Gen Y investors now represent the largest cohort of investors who traded international shares last year,'' Ms Dale said.
"Australian investors, particularly younger investors, understand that while the Australian sharemarket offers some great opportunities, many critical, fast-growing sectors are not well represented on the local bourse.
"These investors are generally pursuing two key thematics – technology, and the rise of the Asian consumer, and they're choosing to do that directly into the US or Asian markets.
"This was visible in the top ten international buys last year.''
Among some of the top international buys for investors last year were Tencent, Tesla, Facebook, Netflix, Alibaba, Apple, Amazon and Visa, the data showed.
Top 10 domestic BUYs by value during 12 months to 31/12/18
| | | | |
| --- | --- | --- | --- |
| | | | |
| Baby Boomers | Gen X | Y Gen Y | Gen Z |
| NAB | NAB | NAB | NAB |
| CBA | CBA | A2 Milk | Afterpay |
| BHP | Westpac | AMP | Telstra |
| Westpac | BHP | Telstra | Resolute Mining |
| Telstra | Telstra | Afterpay | CBA |
| ANZ | CSL | CBA | AMP |
| CSL | A2 Milk | Vanguard Aust Share Index ETF | Vanguard Aust Share Index ETF |
| Fortescue | Fortescue | Westpac | Bellamy's |
| Macquarie | Rio Tinto | Lynas | Lynas |
| AMP | Macquarie | Bellamy's | A2 Milk |
| | | | |
Top 10 international BUYs by value during 12 months to 31/12/18
| | | | |
| --- | --- | --- | --- |
| | | | |
| Baby Boomers | Gen Z | Gen Y | Gen Z |
| Apple | Apple | Facebook | Facebook |
| Amazon | Amazon | Apple | Amazon |
| Tencent | Facebook | Tesla | Tesla |
| Facebook | Tesla | Amazon | Apple |
| NVIDIA | Tencent | Alibaba | Microsoft |
| Berkshire Hathaway B | Alibaba | NVIDIA | Alibaba |
| Microsoft | Microsoft | Microsoft | Plus500 |
| JD.com | NVIDIA | Berkshire Hathaway B | NVIDIA |
| Alibaba | Berkshire Hathaway B | Tencent | Visa |
| Alphabet Class C | Netflix | Netflix | Netflix |