As delivered by Michelle Sherwood, NAB Executive Digital Personal Bank at the virtual FST Media 'Future of Financial Services' conference (Tuesday 5 October, 2021).
Designing banking for life. Effortless. Connected. Empowering
As the lines between the physical and digital interactions with customers quickly dissolve, the need for financial institutions to deliver a 'simplified' experience has never been so important.
COVID-19 has accelerated this digital customer relationship. The challenges and opportunities involved in offering a compelling and fully digitalised customer experience can be many and varied.
However, some things hold true for both digitised and real-life customer experiences. In both cases, offering customers an experience that is both simple and personal, and where they feel their relationship with their bank is effortless is a winning formula.
For over 160 years, NAB has backed people, businesses, and communities to grow, change and move forward. While 93% of NAB's customer interactions now occur through digital channels, importantly, we're human when it matters.
The needs and desires of a customer have remained the same, it's been the technology and innovation that has evolved. Customers still want to put their money somewhere safe, make seamless payments and borrow funds to buy items, large and small.
The pandemic has redefined which categories of goods and services businesses and consumers feel comfortable selling, purchasing and experiencing online.
Many industries pivoted toward e-technologies and virtual appointments. NAB was no different, and we have adapted to help our customers in different ways.
Before the pandemic, no NAB home lending appointments took place via video. Now, more than 40 per cent are held over Zoom, equivalent to thousands of conversations over video every month.
While there still a need for face-to-face and in-store, online and virtual interactions have grown and deepened. In some areas, such as banking, the preference shift towards virtual is well established, with 1 in 2 Australians now strongly preferring to do their banking online.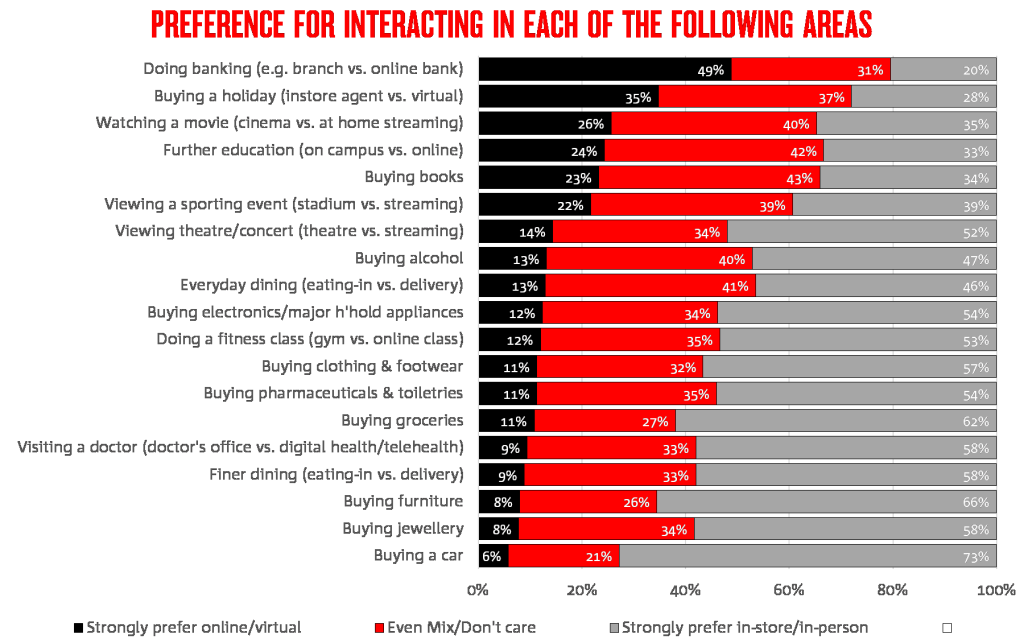 NAB Consumer Insight Report: Interaction Preferences, July 2021
Even before the pandemic, online banking was an integral part of retail banking, but during the pandemic, customers have been moving online in larger numbers. The pandemic significantly accelerated these trends, and introduced new ways of banking for customers and bankers.  Customer behaviours and attitudes changed almost instantly. For example, in the early days on the pandemic one of our customers who was 105 years old, got her first ever debit card.  Prior to the pandemic, most of the stalls at my local farmers market only took cash. Now, they only take cards. QR codes are now the norm in how we get to a link quickly, and we're all used to Zoom/Facetime appointments.
NAB had to deliver on multiple fronts to meet customer needs. There needed to be more self-service in digital channels, we needed to rollout different ways of communicating with our customers and we needed to adapt to new ways of working.
We gave our customers more ways to contact us. We changed processes and enabled digital signatures with more than 95% of mortgage documentation in broker channels enabled to be executed digitally with e-signatures.
NAB already had a strong focus on digital and had progressively made inroads for our channels, products, and apps using customer research and feedback.
We know customers want their banking to be simple, safe, smart, and personalised. We also know they want insights to make their lives easier, help them grow and protect their finances and their businesses. Customer expectations continue to rise as competition drives innovation.
We are, and will continue to be, a relationship-led bank. Our aspiration is to serve customers well by using digital capability and data that strengthens these relationships and experiences with our customers.
Ms Sherwood's presentation is also available below.