TRANSCRIPT – CHECK AGAINST DELIVERY
NAB Executive CIO Personal Banking, Ana Cammaroto, today spoke at the AWS Summit Exec Leaders Forum in Sydney about how NAB is working to create the best engineering bank in Australia.
Thank you all for having me here today – I'm Ana Cammaroto, CIO for Personal Banking & Digital at NAB, and it's an absolute pleasure to be here at Summit – particularly so here at Exec Leaders.
We've heard a lot this morning about how the intersection of people and technology is not just a key ingredient – it's the essential ingredient.
At NAB we anchor our entire business strategy in people – our 'twin peaks' of customers and colleagues. They guide us in everything that we do. Every decision. Every day. Every week. Year after year.
At NAB we've been walking a long road since 2018 – and if I can lean into both of those metaphors further…it was a road with plenty of 'peaks' to scale – as we sought to embark on the largest public cloud transformation in Australian financial services history.
When we made that decision, we did by grounding it in the experience of our customers, and the opportunity for our colleagues. We had to be clear on what was in it for them.
Fast forward to today and we have over 75% of our applications migrated to our public, multi-cloud environment.
We're far from done – but we have transformed the experience of our customers.
We've reduced high and critical incidents by 87% over this time. We've continued to secure our environment at pace.
And –we've transformed our speed to market – delivering new products like NAB Now Pay Later, features like preventative scams messages and other benefits to customers, faster than ever.
But today isn't about that story. Today I want to share with you all the other side of our story.
While I'm far from being an expert on basketball there was a famous line attributed to Michael Jordan in the late 80s – and I'll probably get it wrong. He was asked whether his Nike sneakers were what made him so great. His response –  'It's not the shoes'.
I think this message is spot on – it's not about the shoes – it's about the person in them. It's about what we do with them that counts.
So, it would be easy to look at NAB's technology foundations today as the shiniest pair of shoes in the rack – and completely forget about the belief, the courage, the effort and the people that made it happen. So let me share that side of the story with you now.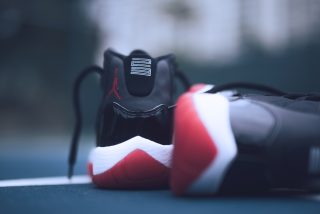 Talent
At NAB we operate under a simple belief: that a home-grown global technology workforce will help us become the best engineering bank in the southern hemisphere. It's a big ambition – and to make it happen we needed a conscious effort across a number of fronts.
From a talent perspective, we made the choice to insource our engineering capabilities. After years of watching smart people 'ebb in' and 'flow out' in line with investment cycles we decided that, instead, we'd like more engineers wearing NAB colours to continuously build our IP.
But with competition for talent at an all-time high, this was a challenging combination.
We had to recognise that there was (and still is) never a better time to be an engineer – particularly software – in this country and many others around the world. High demand for skills. Rising wages. True choice of employer.
We needed to do better.
So, in response we enhanced our value proposition and marketed our engineering ambitions. We doubled our technology intern intake. We created Global Innovation Centres full of our people in Vietnam and India. We created new opportunities for women returning to the workforce after extended time away.
We're extremely proud of the capability that we've built. Since 2018, we've moved from a workforce that was 70% outsourced to 39% at the end of last year – and we're still hard at it.
And while these new approaches have been key contributors in helping us meet the demands of today and attract talent – of equal importance was growing the talent that we had within.
Education 
When we started our cloud journey, we looked at our engineering practices and understood that if we wanted to realise our migration ambitions we needed to reskill our people– and fast.
Thanks to some great partnerships – in particular with AWS – we stood up our NAB Cloud Guild with a clear intent of helping facilitate this transformation. Since inception the Guild has helped more than 7,000 NAB colleagues gain industry recognised cloud training.
Which is a fabulous number – and one we love talking about – but when you peel it back and think about what's actually involved with migrating an application to the cloud – that's when it becomes real.
Our Institutional Banking application 'Murex' is a great example of this – a mission critical foreign exchange and commodities trading platform run by engineering specialists that were highly skilled at building and running on-premise infrastructure – with zero knowledge of the cloud.
So, when it came time to shift this application to the cloud (multi-cloud to be more accurate) – effectively removing the need for an infrastructure team altogether – what did we do?
We retrained them.
We supported them with standards that created universal consistency in how we migrate (and run) workloads. We backed them to take the migration on as an existing team – instead of handing it off to a central squad. And as a result, the team became the first Murex customers worldwide to shift the application to the public cloud.
And, while you could argue that the team were coming off a high bar, the fact remains that, thanks to our commitment to education, we were able to achieve an exceptional engineering outcome.
Still on education and more recently, we were delighted to work with AWS to become the first partner in the world to run the SheBuilds: Cloud up! program internally – a retraining initiative exclusively for women where no prior technology knowledge is required.
Voices in the industry have been saying for years that there simply aren't enough women interested in technology for us to move the dial on gender balance.
To those voices – we respectfully and whole heartedly disagree. We've had hundreds of women make up the 500 colleagues that signed up to this program. And that was just the first intake.
But the best part of all of this? Whenever we prioritise education, our colleagues reward us with their loyalty and their commitment to delivering the best for our customers. Which brings me to my final point.
Exceptional Engineers 
At NAB we appreciate that an outstanding digital experience is always grounded in exceptional engineers.
As any engineer will tell you, give us a hard problem to solve, give us the tooling to get started and give us an environment where solving hard problems is celebrated – and we are all onboard.
In our case, the tooling came via our NAB Engineering Foundation – a server-less, common development platform that integrates standard tooling from the world's best software vendors. Through a philosophy of 'inner sourcing' – where we are continuously reusing universal capabilities – the platform automatically inherits more features and protection the more it is used.
It's highly standardised and consistent approach that delivers speed and predictability – and most importantly helps our engineers focus on problems that are challenging and exciting as opposed to procedural and mundane.
In the digital space this freedom has enabled our teams to look at both our customer and colleague channels with an entirely different lens.
Last year we made the decision to start replatforming our Business Banking online platform NAB Connect using this new architecture. Cracking open such an important customer facing platform – and pulling it apart one component at time – was a significant undertaking
So, we had the processes. We had the technology. But most importantly we had the people. It was one of those challenges that our engineers were more than up for.
Nine months since the replatforming we've seen a threefold improvement in customer NPS, accelerated our release cadence and materially reduced the cost of change of this application.
Again – we're not done by a long shot – but with a further ambition to expand reuse of mini-apps between external and internal applications, our engineers are facilitating an experience revolution for both customers and colleagues alike.
So in closing I've probably spent too much time talking about how we've met the demands of today.
But what about the future?
For me the demands of the future aren't just about the next waves of technology advancement. They're about our ability as a nation to provide the right skills and resources to exploit it – our ability to think 'beyond the shoes'.
If – as the Tech Council of Australia predicts – Australia needs more than a million technology workers by 2025, how do we double the number of IT graduates in the next three years? How do we triple it five years after that?
How do we create career paths that don't just lead to Silicon Valley? How can we help schools and universities keep up with the pace of technology?  And how do we inspire a new crop of young women to not only be STEM-skilled, but confident enough to take on a career in an industry that still has less than 30% female participation?
As an industry – from start-ups to scaleups to large institutions – it's on us to work together to create a more vibrant and active community that seeks to address these hard, structural questions. A community that works together to secure our engineering future.
Because without meaningful action there will be no more game to play.
And, if that happens, it won't matter how good your shoes are.
-ENDS-