After working for ten years in advertising and marketing, NAB Relationship Associate Veng Ear decided he wanted to open a small business.
"I jumped into a franchise fast food business in Southbank with a friend of mine. It traded seven days a week and only closed on Christmas Day," he said.
"It was intense but I definitely learned a lot about small business and I'm still very passionate about it. I liken the experience to a very expensive MBA!"
After a few years, Veng was looking for a new challenge and decided to open up a café.
"We've all got a friend who dreams of opening up their own café or bar, and it was one of those things where I thought, 'let's just do it'," Veng said.
He and some friends invested in LB2 Specialty Coffee, a café on Gallagher's Place in Melbourne's CBD.
And LB2 is a NAB business customer.
"The café's EFTPOS system is with NAB. There was a great rate available and that small saving makes a huge impact and provides extra that we can put back into the business and pay staff with."
Veng spent seven years running the LB2 team, driven by a passion for coffee and customer service.
"There's something about the early morning, when it's still dark and opening the café, firing up that first shot of coffee to enjoy that brings back wonderful memories," he said.
The café was very successful and in late 2019, Veng started thinking about returning to the corporate world.
Relationships matter
Veng started at the NAB Broker Response Centre in February last year, just before the pandemic hit. In this role, he saw the similarities of his role at the café serving customers and working at a relationship-led bank like NAB.
"Our customers at the café are all familiar faces – it is like serving friends.
"We were able to build relationships with these customers from day one that have still been coming back," Veng said.
Trust
What enabled him to take a step back from the day-to-day running of the café was having a team he could rely on.
"Trust is a big thing in small business – can I trust someone else to run the business, and my livelihood? Fortunately, I had a very good team.
"I'd walk through the city to work at Docklands and drop by the café on the way in the morning."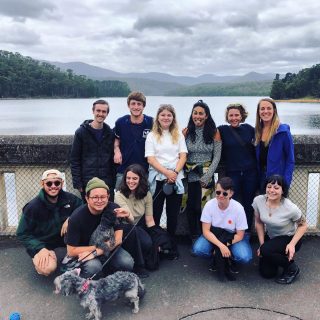 Testing times
When the pandemic hit, Veng found himself not only supporting customers in his new role, but also trying to navigate running his small business and looking after his team at the café.
"There was definitely a stage at the start of 2020 when I was pulling my hair out a bit," he said.
"I would finish my work at NAB then spend long hours deciding how to keep the business afloat. I was working two jobs for four months, essentially. I like to think it has made me stronger."
The hunt for staff
Now, Veng is facing a new challenge, finding enough staff for his café. He's not alone. About four in 10 businesses are experiencing significant impacts from labour shortages, according to recent NAB research.
"A lot of us have spent time in lockdown and isolation and had a lot of time to think about our career choices. My staff haven't been immune to that. Now we have this huge talent shortage in hospitality," Veng said.
"It's one of those things where we just don't know where the end of it is but after 10 years in small business, nothing really surprises me anymore!
"You learn to roll with the punches and plan where you can," Veng said.