When Carmela Follacchio started at NAB in 1982, she had no idea it would be the start of a 40-year career.
"There were 22 graduates and only two females," she said.
"Back in those days you went to a branch for 26 weeks and learned about banking from the ground up."
With training in economics, marketing and teaching, Carmela soon found her way into head office and took a role in NAB's newly formed Public Relations team.
Carmela did a bit of everything in PR. She managed our Annual Report, handled customer complaints for CEOs Nobby Clark and Don Argus, and was even involved with getting NAB's history – Gold and Paper, by Geoffrey Blainey and Geoffrey Hutton – into every library in Australia.
Hybrid work
Plus, she was a trailblazer when it came to hybrid working… before it was a thing.
"I'd had my third child and I was taking a career break," she said, "but my boss asked if I could collate nominations for some business awards, which we sponsored."
"It was unheard of back then to work from home, but a fax machine arrived at my house and we had to get a spare table from a neighbour to sit it on."
The awards were televised on SBS, and Carmela got to meet fashion designer Carla Zampatti, and had her photo taken with Prime Minister John Howard.
But perhaps her most interesting task in that role was coordinating the design, production and distribution of the famous NAB calendars.
"The calendars were a big hoo-ha in NAB for many, many years," she said. "Branch Managers loved handing them to their best customers, and people used to keep them in mint condition and then trade them in the trading post!"
"We would discuss and agree on a theme, and I used to travel around Australia with an art historian, looking at private art collections for inspiration."
A career change at NAB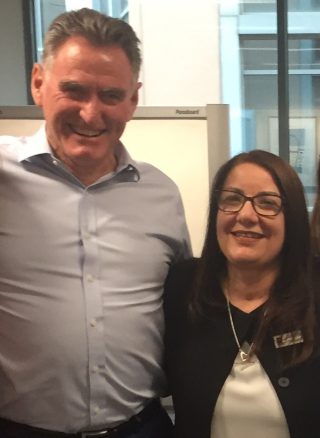 When she returned from a career break after six years in PR, Carmela took on a new challenge doing marketing for a small project called HICAPS.
"I got excited when HICAPS turned on our first health fund, and then when we did our first claim," she said. "When we hit a hundred thousand claims it was a big deal, but now we do millions."
"HICAPS is such a super brand – like what Glad Wrap is to cling film.
Carmela has been a much-loved member of the HICAPS team for almost 25 years. And this year she clocked up 40 years at NAB!
"I'm overwhelmed and my kids are so proud," she said.
"Just the comments and the people and the memories that it's all bringing out…I've never cried so much, but happy tears!"
NAB CEO Ross McEwan also called to congratulate Carmela for being our '40-year superstar' and the 'heart and soul of HICAPS'.
"I was very humbled by this call by Ross," she said.
Congratulations Carmela on a wonderful career so far!
To find out more about careers at NAB visit here.