Australia's favourite past time of firing up the BBQ will be in overdrive this weekend with Western Australians expected to spend big and celebrate hard.
With the AFL Grand Final being played in Perth for the first time, the latest analysis from NAB indicates that West Aussies are expected to spend an estimated $52 million on Saturday alone at food retailers such as supermarkets and butchers and $10 million at liquor stores as people celebrate with friends and family.
NAB State Business Bank Executive, Jeff Pontifex said the spending equates to a more than 10 per cent jump on a regular Saturday, with record spending also expected in the lead up to the Grand Final on Saturday.
My top tip for footy fans is to start planning your Grand Final menu and supermarket shop now," Mr Pontifex said.
"Our analysis shows that West Australians typically leave their shopping to the last minute to stock up on supplies, with liquor sales peaking between 1pm and 4pm on the day of the Grand Final last year.
"With the AFL Grand Final being played in Perth for the very first time, we are expecting to see more West Aussies getting in on the excitement by hosting friends and family at home or watching the big game at their favourite pub. This will be a great economic boost for local food and beverage retailers, who can expect a surge in sales over the long weekend".
Based on spending last year, Western Australians are expected to spend more than $200 million at food retailers such as supermarkets and butchers and liquor stores between Thursday and Sunday.
Greg Ryan, co-owner of Ryan's Quality Meats said his two butcher shops in Jandakot and Bunbury have been flat out in the lead up to the Grand Final, as customers stock up on their BBQ essentials. Mr Ryan and his team of 80 employees have also been busy preparing meat to supply to various pubs and restaurants around the State for the big day.
"There is so much excitement about the Grand Final this year, with many of our customers choosing to host friends and family at home or soak up the atmosphere at their local pub or restaurant," Mr Ryan said.
"The AFL Grand Final is always a huge weekend for us, but it's bigger than ever this year.  We expect to sell around 70 tonnes of meat, which is up about 50 per cent on a normal trading week. Our world famous burger packs are proving to be hugely popular with customers, as well as our roast beef and gravy rolls. My recommendation is to cook the BBQ nice and early, at around 4pm to ensure that you have ample time to cook your feast to perfection and you can sit back and enjoy the football.
"We know that Friday and Saturday are going to be very busy, so we have put on extra staff to make sure our customers have a great shopping experience and get the right advice on the products they purchase. We also want them to be able to get in and out quickly so they can get home and put their feet up and enjoy the big game with their family and friends," he said.
Perhaps most surprisingly, the NAB analysis shows that in previous years' spending at cafes, restaurants, pubs and bars hasn't changed significantly when compared to a typical weekend in September, indicating that West Aussies are choosing to entertain at home rather than heading out. However, given the historic occasion more West Aussies may choose to watch the game on the big screen at their favourite pub.
In past years there has been a small increase in spending at hotels and other accommodation providers over the Grand Final weekend, but the excitement that has been building may lure in more people from regional areas.
"With West Aussies from all corners of the State getting in on the excitement of the Grand Final, we're also hoping that more people will travel in so they can be closer to the excitement and soak up the atmosphere. This will be a really welcome boost for accommodation providers," Mr Pontifex said.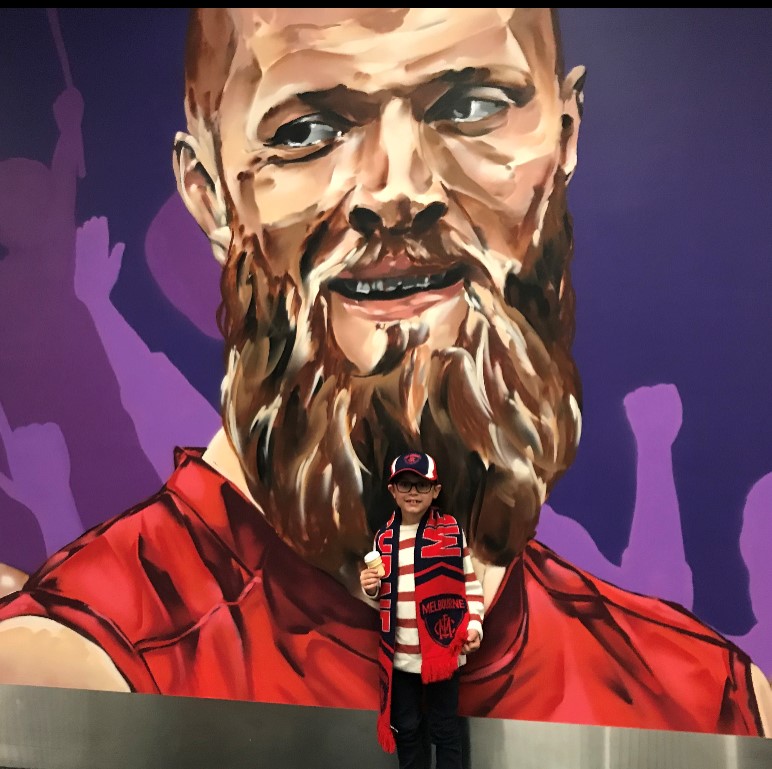 Young Demons fan, Lucas Bosco is looking forward to the Grand Final.