Growing up, Kate Healy remembers being inspired by the American sitcom show, Murphy Brown, and the portrayal of a strong woman fighting against the glass ceiling. 
When – for the first time – a computing studies course was offered as an elective in year 11, she thought it would be a valuable skill to have under her belt.
"I didn't realise at the time how important that decision would be for me."
By the time she was in Year 12, Kate was reaching the top of the state in computing studies.
"I had a family friend who worked in technology and encouraged me to consider STEM. His support, backed by my mother who always told me I could be anything, ultimately pushed me to study a Bachelor of Computing Science."
Kate was just one of three women that graduated computing science from the University of Wollongong at the time, but she didn't let that slow her down.
The pivotal moment 
Kate's first experience with cyber security wasn't a positive one. After being caught up in a traumatic experience where her university assignments were hacked into, stolen and plagiarised by another student, Kate recognised how important it was for people to keep themselves safe online; and, just how easy it was to be a victim of cyber crime.
"Looking back, this was the single, defining moment that shaped the rest of my career. I turned to cyber security and never looked back."
Working as a cyber security consultant, Kate landed a once in a life-time opportunity. She found herself at 29 years old, on a flight to Singapore with two large suitcases and a job offer as a senior cyber security executive reporting to the Chief Security Officer of one of the world's largest banks. As the Head of Risk for Wholesale Banking, Kate was responsible for looking after a number of Chief Operating Officers (COO).
"My stint in Singapore was a real taste of knocking down the bias. I was in a new country, with a new culture, and I was one of the only women in my team of cyber specialists – and the youngest – but I took it in stride. If you are not being challenged, you are not growing."
Since then, Kate has been committed to a career in cyber security, helping to educate Australians to better protect themselves from cyber crime online. With two-thirds of Australians fearing they will be victim to a scam, her mission has never been more important.
To achieve this, Kate has worked with a number of organisations, helping them to better manage their cyber risk, including Standard Chartered Bank, CBA, Google, Telstra and NAB.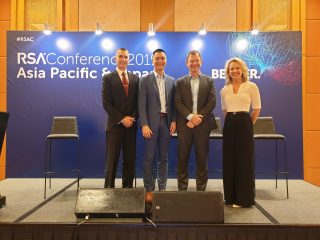 Tackling gender bias in cyber security 
Though she continues to break the bias of female representation in cyber security, Kate believes it's a real challenge today just as it was more than 20 years ago.
"Even now, I often find I am one of the few women in my team of cyber security professionals, and that's a real problem for the industry."
Women represent just 20 per cent of the global cyber security industry.
One way NAB is challenging the bias is bringing in more women from diverse backgrounds. Laura Hartley is a Manager, Cyber Security Advisory in Kate's team, but comes from a background in criminology. It's just one example of how women are being encouraged into cyber security from all walks of life.
Kate is now helping to transition more women to cyber security roles and pays it forward by mentoring young girls and women, and regularly speaking at public events about the industry.
"Visibility is so important. I want young girls out there to see that I did it, and they can to.
"Just the way I grew up watching Murphy Brown on the small screen, every young girl needs a female leader that can lead by example."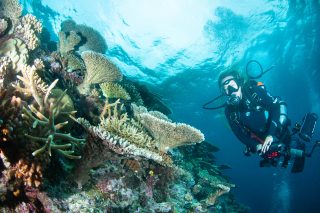 Kate is no stranger to breaking bias in her personal life too. She's just one of a few women in Australia that is a certified solo scuba diver and an underwater photographer.
"I won't let societal norms or biases keep me from doing what I love. I think that's my best advice for other women coming up in the tech industry."