NAB Chairman Philip Chronican has described the decarbonisation of the Australian and New Zealand economies as "the greatest economic shift of our lifetime".
"Australia has the opportunity not just to keep up with the world, but to become a leader in renewable resources and low-carbon technologies. NAB is backing businesses to realise that opportunity," Mr Chronican said, during NAB's Annual General Meeting on December 17.
Australia's transition to net zero by 2050 and the economic opportunity this presents, was a significant theme at the AGM.
NAB CEO Ross McEwan told shareholders that climate change was an area in which all Australians needed to engage.
"We all have a part to play and we certainly recognise our role," Mr McEwan said
"We see significant opportunity for the bank to work with and support our customers to decarbonise while also building resilience to the worst impacts of climate change," Mr McEwan said.
Lending for net-zero by 2050
Mr Chronican said NAB's primary contribution to limiting global warming to 1.5 degrees was through the financing the bank provided to customers.
"We are facilitating the investment required to realise the immense economic opportunity for Australia and New Zealand in a low carbon economy," he said.
NAB's goal is to align its lending portfolio to net-zero emissions by 2050. NAB is the only major Australian bank to have set an upper limit on oil and gas extraction and production exposures, and to put restrictions on lending to greenfield gas projects.
NAB will not lend to new thermal coal mining projects or take on new thermal coal mining customers. It has set a target for exposure to thermal coal mining to be effectively zero by 2030, aside from residual performance guarantees to ensure site rehabilitation.
"NAB is winding down our financing of fossil fuels over time, while at the same time, growing in renewable energy finance. We have made clear statements regarding our targets and approach. We will support an orderly transition of Australia's energy system," Mr Chronican said.
Since 2003 NAB has lent $11.5 billion to fund more than 150 global renewable energy projects, more than any other Australian bank.
Everyone will need to transition
Mr Chronican cautioned that it would not be enough for Australia to source 100 per cent of its power from renewable sources. This would only address a third of our carbon emissions, he said.
"To get to net zero, every business in every industry will have to evolve. Every household will need to make changes," he said.
"This is where a bank like NAB can help."
Mr Chronican said electrifying transport, heating and cooling systems would reduce reliance on oil and gas fuels. Deloitte analysis shows that this could reduce Australia's emissions by up to 80 per cent by 2050, once electricity generation reaches 100 per cent renewable.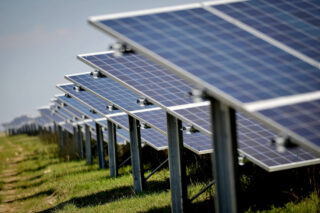 "The remaining 20 per cent of Australia's emissions will be harder to abate," Mr Chronican said, adding that farmers and foresters would play a role.
NAB has finalised work to baseline the estimated attributable financed emissions of eight key sectors of the bank's Australian lending portfolio. These are residential mortgages, commercial real estate, agriculture, power generation, resources, manufacturing, transport and small medium enterprises.
"In the next 12 months we will disclose how we will align our lending to these sectors against the 1.5-degree scenario," Mr Chronican said.
Meaningful backing
"The commercial opportunity to finance the climate transition is significant and developing and deploying low-carbon solutions will require meaningful backing," Mr Chronican said.
Partnership between business and government was critical and recognised the value of a number of state and federal government programs in place, he added.
NAB was the first Australian member bank of the United Nations' Environment Programme Finance Initiative's Collective Commitment to Climate Action. NAB has now also joined the associated Net Zero Banking Alliance, which together set out concrete and time-bound actions for member banks to achieve a net zero lending portfolio by 2050. This further demonstrates our commitment to transitioning and aligning NAB's lending portfolios with the most ambitious targets set by the Paris Climate Agreement.
You can read the Chair speech and CEO speech in full here, or watch the meeting online here.