It's not every day that a 10-year-old gets to play footy against an AFL star, and squeeze in a little light-hearted ribbing, but James Nguyen is used to handling challenges with panache.
James is a massive sports fan and has a rare syndrome which affects only 82 people in the world called Encephalocraniocutaneous Lipomatosis. With severe curvature of the spine, James wears a brace and uses a wheelchair over longer distances.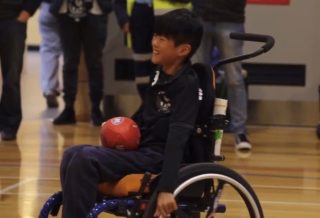 James has been playing Wheelchair NAB AFL Auskick this season.  The program launched this year after a successful pilot last year and James was featured on Channel Seven News playing Richmond Player Jacob Hopper.
"James loved it and as a Pies supporter made sure to give Jacob some grief!", said James' mum Jacqueline Leou.
Jacqueline, an Associate Director in Process & Controls Enablement at NAB, said Wheelchair NAB AFL Auskick was a great initiative to build inclusivity.
"James loves playing sport and is really competitive, but prior to wheelchair Auskick, we had to find workarounds like getting him to play with younger kids.
James is due to undergo major spinal surgery soon at the Royal Childrens' Hospital.
"When I'm allowed back to playing footy, I'll be giving it everything I've got! Wheelchair Auskick is better for me because I can play against kids at my level," James said.
Jacqueline added "James also loves staying on and watching the wheelchair AFL with his dad."
"When he sees other people in wheelchairs living their best lives, it gives him hope and inspiration that he can do that too!
NAB has been a proud partner of the AFL for over 20 years and has sponsored NAB AFL Auskick since 2006. Through the Auskick partnership, NAB provides kids around Australia the opportunity to be active and have a fun introduction to footy. 
The launch of Wheelchair NAB AFL Auskick this year demonstrates the AFL and NAB's commitment to growing the game in all formats giving even more kids access to the game they love.