As Australia's level of fully vaccinated people aged over 16 edges towards 50 per cent, colleagues at NAB are rolling up their sleeve to get the jab as part of the workplace vaccination pilot program. 
The program, which kicked off last month, enters the next phase tomorrow with Pfizer doses available as part of the pilot, alongside Astra Zeneca.  
The vaccine is available to colleagues and members of their household (over the age of 12) through hubs setup in some of the most impacted Local Government Areas (LGAs) of New South Wales, including Parramatta, Liverpool, Penrith, Chatswood, Campbelltown and Bankstown. 
NAB customer advisor Michelle Panov from the Revesby branch in the Canterbury-Bankstown area said the convenience of getting the jab at work was extremely helpful given the lockdown restrictions. 
"Being able to get the jab at work was quick and made life easier at the moment given the lockdown and travel restrictions currently in place," Ms Panov said. 
"It's great that NAB cares about not only about my health, but the health of my family too. My husband also took advantage of the opportunity to get vaccinated at NAB as well. 
"I feel like we're doing our small bit to stay safe and to get through this. It's been months since we've been able to see our family and like everyone, we just want our lives to have some normality again." 
NAB Group Executive People and Culture Susan Ferrier said the bank was doing whatever it could to make it as easy as possible for colleagues to get vaccinated, with around 150 people so far registering for the jab at NAB so far. 
"The faster we're all vaccinated, the better. Vaccine take-up across the country continues to rise and the targets for 70 and 80 per cent are in sight," Ms Ferrier said. 
"It's great to see our colleagues and their household members rolling up their sleeve and taking this opportunity to get vaccinated at work.  
"We're still working through the details but in coming weeks we are planning to expand the program to offer more vaccines, in more buildings, to more colleagues right across Australia.  
"Outside of the workplace pilot program, we're also supporting our people to get vaccinated when they can by making it easy for them to take paid time off if they need it."  
NAB's partnership with UNICEF, where for every colleague vaccinated sees NAB pay forward to fully vaccinate a person in need in neighbouring countries including Fiji and Papua New Guinea, has seen more than 6,100 colleagues register their jab so far. 
NAB is backing every effort to lift Australia's vaccination rate to 80 per cent and beyond with its new "jab" campaign. To find out more visit nab.com.au/jab. 
++
For media: A downloadable image of NAB customer advisor Michelle Panov is available below.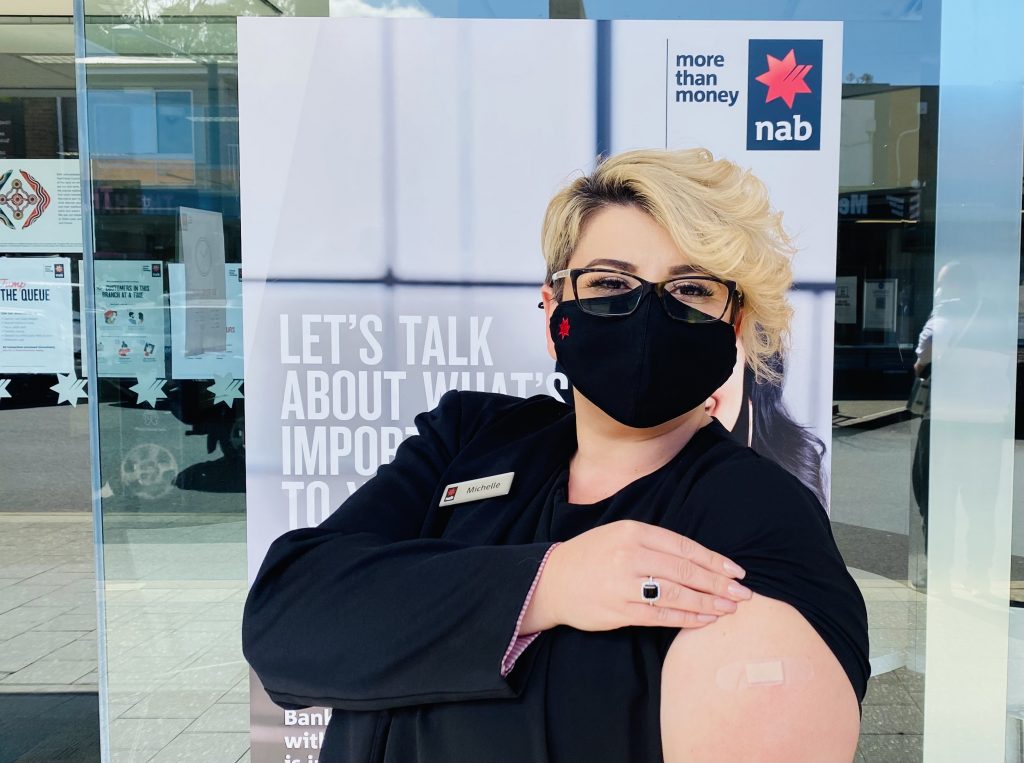 Michelle Panov – NAB customer advisor, Revesby Branch